This add-on implements many news mobs in the game including ones from the Better Nether and Night++ add-ons. The current version adds a total of 31 new mobs to the game and more are likely to be added in the future. By using this add-on you will be able to experience Minecraft in a whole new way as there are plenty of new mobs to fight.
Creator: CodanRaigen21, Twitter Account
Updated: 1 November, 2018 (read changelog)
How does it work?
At this moment the mobs added are Nether and Desert mobs. All of the mobs are added entities and don't replace any existing mobs. This also means that it will only work for version 1.8 and above.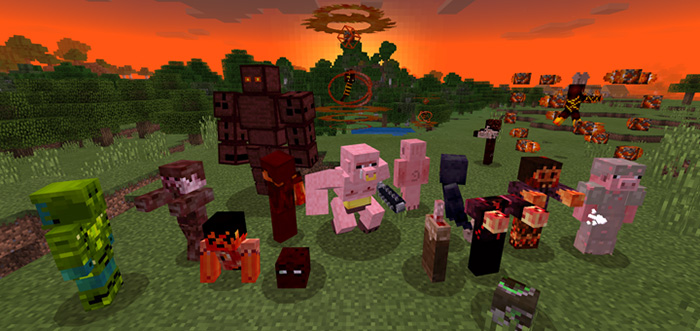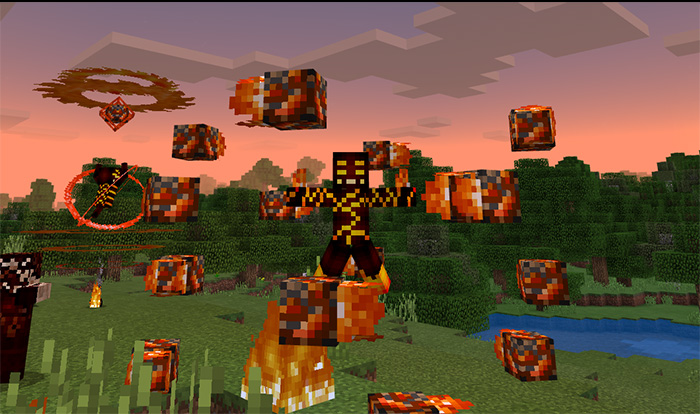 Nether Mobs
Blaze King (boss)

500 hp
rapid firing fire balls
has 10% chance to spawn inthe overworld

Blood stone golem
Grub
Headless
Hellraiser (mini-boss)

40 HP
shoots explosiove fireballs

Nether-bound
Nether-creep
Parasite
Brute Pigman
Civilian Pigman
Guardian Pigman

24 HP
6 AP
Attacks only zombie pigmen

Severed
Toxic head
Unarmed
Undead head
Under-crawler

12 HP
4 AP
Under-terranean
20 HP
4 AP

Vengeant ashes

26 HP
5 AP, wither effect

Vengeant soul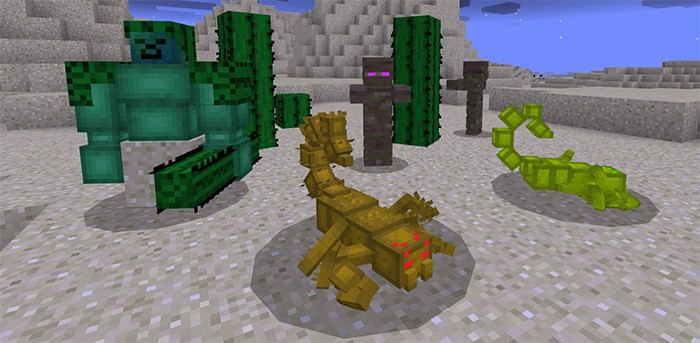 Desert Mobs
Cactus warrior
 Giant scorpion

Stings you if you get too close, posion 2 for 20 seconds
4 variants, hairy green, smooth yellow, spikey black, and cyan
4 AP from pincer attack
10 HP
Doesn't burn in daylight
Hostile

Cactus warrior (big)

Has blockier cactus-like armor but has a flower on top, 4 blocks tall
Has a full cactus to knock you back
12 AP
50 HP
Damaged by water and snowballs
Hostile

Sand shark (desert)

Uses its fin to get your attention
Lunges at player, model is offsetted from the ground to give an illusion
Beige, 2 blocks long and gives you slowness 1 for 3 seconds
3 AP
10 HP
Damaged by water and snowballs
Hostile

Flower trap

A Rafflesia flower
Has 6 variants, the color wheel
Gives you poison 4 for 20 seconds (planning)
3 HP
Inanimate

Dusty skeleton

Sandy skeleton wrapped in rags
2 AP, poison 5 for 3 seconds
20 HP
Hostile

Mummy

Summoned by undead pharaoh
4 AP
28 HP
Hostile

Undead pharaoh

Summons 3 mummies at a time when attacked by player
Has a golden eagle staff
6 AP
30 HP
Hostile

Eagle staff

Summons 4 Mummy minions that attack most monsters for you but they last only 10 seconds being too overpowered

Minion mummy

Friendly towards players, kills monsters
6 AP
30 HP

False cactus

Shoots arrows at you
Blends in well in the desert
10 HP

Living fossil 0

Undead dinosaur
fast
3 AP, hunger for 10 seconds
20 HP
Hostile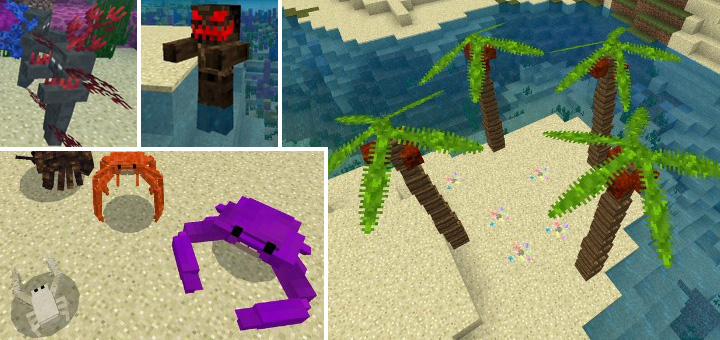 Beach Mob
Arctic spider crab
Coconut crab
Japanese spider crab
Dungeness crab
Yeti crab
Coral-bounds

5 existing coral variants
26 HP
4 AP

Trench predator

Attacks pirates
22 HP
5 AP

Pirate

20 HP
5 AP, nausea for 2 seconds

Pirate captain
Ocean biome-box

original aspects from "Biome-box" add-on

Coconut trees

4 direction variants
10 HP
Drops jungle logs

Sea shells
Custom item: Redstone cutlass
Sand shark (beach)

Hammerhead appearance, yellow, rough
Lunges at player, model is offsetted from the ground to give an illusion
4 AP
10 HP
Gets damaged by water
Hostile
Changelog
Adds 20 new beach biome entities
Adds aesthetics to the beach by spawning coconut trees.
Installation
Important: Make sure to enable "Experimental Gameplay" if you're playing on 1.8! (Requires version 1.8 or above.)
Apply the packs for a world
Create the world