This add-on consist of 6 new remodelled heads as a Christmas Costumes! It's early but let's celebrate the Christmas and wear your favorite Christmas costumes in this pack! Santa, snowman, elves and more – it's your choice!
Creator: mikkeeeyyyy, Twitter Account
Updated: 1 December, 2018 (read changelog)
How does it work?
All of the mob heads and mob skulls have been replaced by Christmas Heads Costumes. You'll basically be able to change your appearance in-game for heads like Santa's or Rudolph the Reindeer.
Mrs. Claus Costume = replaces the Dragon Head
Christmas Elf Costume = replaces Steve Head
Frosty the Snowman! = replaces Creeper Head
Gingerbread = replaces Skeleton Head
Santa Claus = replaces Wither Skeleton Head
Rudolph the Rednose reindeer = replaces Zombie Head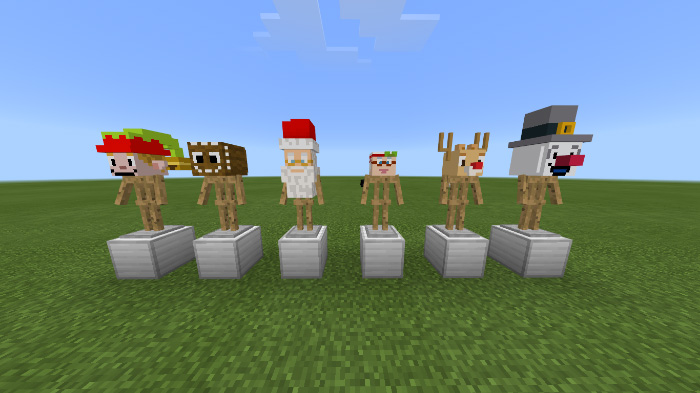 Changelog
Major changes on the Gingerbread Head Costumes model and texture.
Major changes on Mrs. Claus Head Costume size.
Installation
Apply the pack for a world
Create the world