The Ender Update has gone out of control and accidentally caused some glitches in the system (at least if you intend to use this addon). Almost all of the hostile mobs have been affected in a way that they now have abilities similar to the enderman. The only upper hand you got is the fact that they are afraid of water so make sure to bring an extra bucket of water on your next adventure!
Creator: StarkTMA, Twitter Account
Updated: 24 June, 2018 (read changelog)
How does it work?
Look up into the night sky. Do you see something different? The moon looks infected. What could that be? It must be some kind of sickness which is causing this.

Monsters also look different and their behaviors have been radically changed to resemble those of an enderman. No one really knows the root cause for these issues but it's clear that something ain't right.

The night is extremely dangerous. Monsters have gained the ability to teleport and this makes them almost unstoppable. Also skeletons and zombies are no longer affected by sunlight.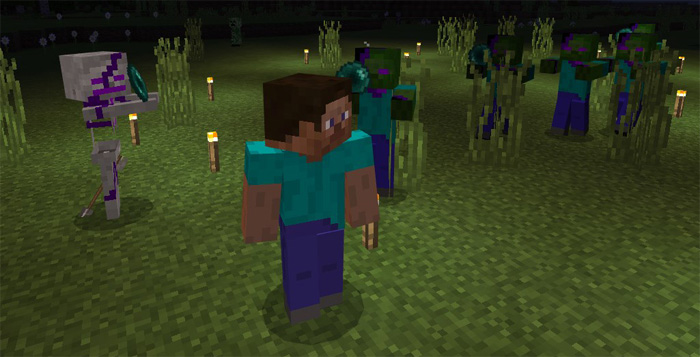 The only way to stop them is to make sure that you've got some water with you. Apparently they don't like it.

Every time that you kill one of the affected mobs (see list further down) there is a chance that it will drop an ender pearl.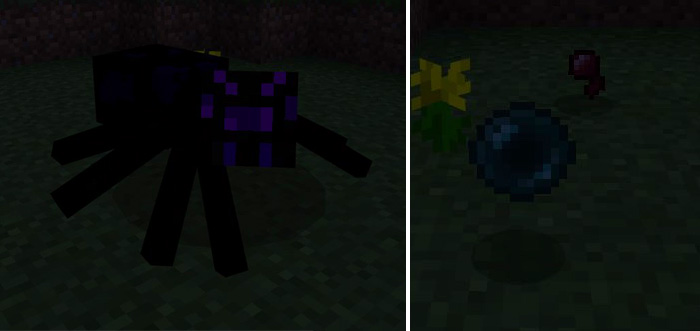 The Ender Dragon has never before been more powerful. Here are some of its new abilities.
Shulker projectiles, inflicting dragon breath's effect
Less knockback resistance
Faster
Stronger
Health: 300 hearts (three times more than default)
Teleportation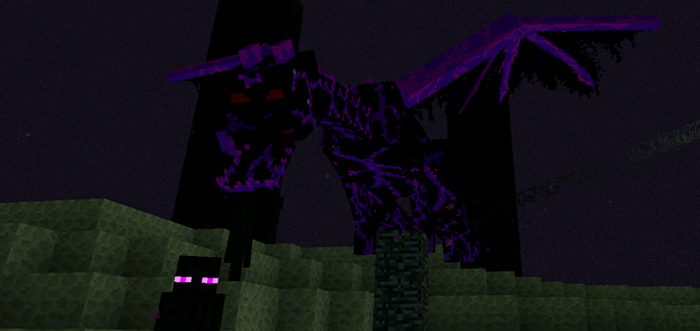 The elytra wings look entirely different. They are designed similar to the wings of an ender dragon.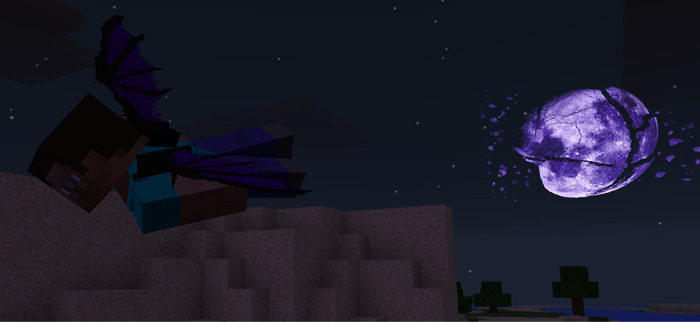 Here is a full list of mobs which are affected by this addon. 
Blaze
Spider
Cave Spider
Chicken
COD
Cow (friendly)
Dolphins
Drowned
Elder Guardian (doesn't take damage from water)
Ender Dragon
Donkey
Ghast
Guardian (doesn't take damage from water)
Horse
Illager
Iron Golem (friendly, will help you to fight)
Llama
Magma Cube
Mule
Parrot
Pig
Polar Bear
Puffer Fish
Salmon
Sheep (friendly)
Skeleton
Skeleton Horse
Slime
Snow Golem (friendly, will help you to fight)
Stray
Squid (doesn't take damage from water)
Tropical Fish
Villager
Vex
Witch
Wither Skeleton
Wither Boss
Zombie Horse
Zombie Pigman
Zombie Villager
Upcoming Features
Horror music
More mobs
Customized textures
Demo Video
Changelog
Added

Drowned
COD
Salmon
Tropical Fish
Puffer Fish
Dolphins
Installation
If you find a broken mob, please let us know in the comments or by tweeting Stark.
There's an easter egg! If you find it, write #Garalovesllama in the post and tweet!
Download Resource .McPack (recommended to set as a global resource pack, Game Settings > Global Resources)
Download Music Pack .McPack (optional)

Copy the vanilla_music folder and paste it here: /games/com.mojang/resource_packs/ 
Click for music install guide, iOS users – for now, I recommend not using the music pack because it requires a computer (or file manager app if you are on Android) to install it.)

Activate the packs for a world in-game