This is a really simple and clean add-on which allows you to tame Endermen and keep them as your loyal pets. It will act just the same way as an ordinary Enderman except that it won't be attacking you but will instead protect you to his last breath.
Creator: Plasmascan
Updated: 29 September, 2017 (tame with an Ender Pearl, 100% success rate, tamed Enderman no longer does random teleporting when commanded to sit
How does it work?
You can tame an Enderman by giving him an Ender Pearl. However, you have to be careful because wild Endermen are hostile. Something worth noting is that if you wear a Pumpkin as a helmet then you can look at an Enderman without him attacking you.
Remember, you can't tame an Enderman if you've already provoked him. This is why it's very important that you avoid eye contact with them. However, as soon as it is tamed you can look at him as much you want.
iOS / Android: Hold an Ender Pearl in your hand, long press on the Enderman and press Tame to tame it
Windows 10: Right-click on an Enderman while holding a Ender Pearl in your hand to tame it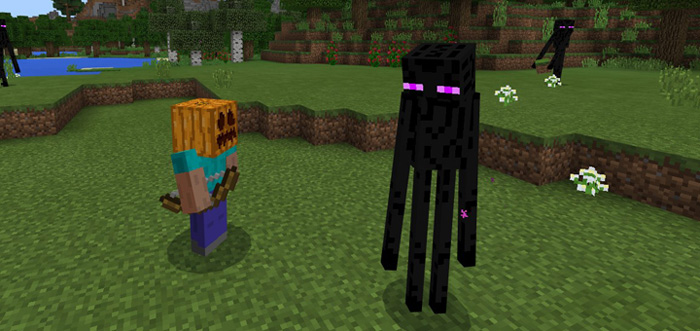 A tamed Enderman will kill for you, but only targets which you are getting attacked by or are attacking yourself. If your Enderman pet gets hurt then feed him some dirt to heal him.
Installation
Activate the packs for a world in-game