This resource pack replaces some of the heads and skulls in-game with the heads of famous animatronics from Five Nights at Freddy's (FNAF). It's definitely quite creepy to be able to replace your head with one of the heads of the animatronics, but also pretty useful if you're looking to scare your friends or role-play FNAF. However, it's only a resource pack and it doesn't chance any player behaviors.
Creator: FH_Miner, Twitter Account
Updated: 16 April, 2018 (read changelog)
How does it work?
All of the heads are wearable head items as well as a solid block which you can place down. This is because they replace some of the heads and skull items in-game (e.g. creeper head).
Freddy Fazbear (Brown) – Replaces Creeper Head
Chica (Yellow) – Replaces Skeleton Head
Foxy (Red) – Replaces Wither Skeleton Head
Bonnie (Purple) – Replaces Zombie Head
Puppet
Springtrap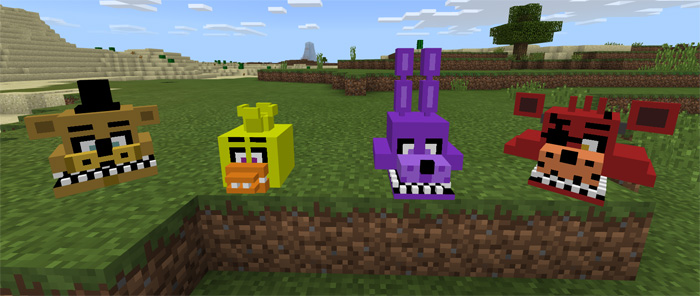 Changelog
New animatronics heads (Puppet & Springtrap)
Fixed names for the heads
Installation
Start Minecraft
Settings > Global Resources > Activate the resource pack