Funtopia Park is a huge themed amusement park built by only two persons. It features a wide range of attractions such as plenty of fun roller coasters and water slides. There are really endless of possibilities for what you can do in Funtopia. Besides building Funtopia Park the creators are also very busy building Funtopia City and Funtopia World and they hope to release them soon.
Creator: Zen0ie
Updated: 4 December, 2018 (read changelog)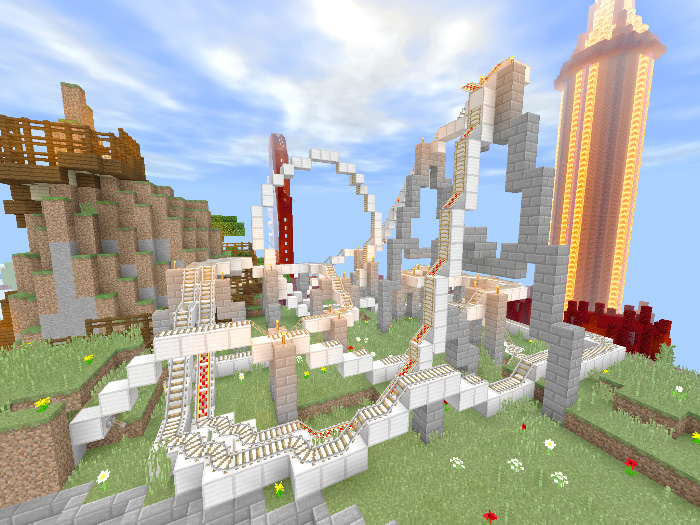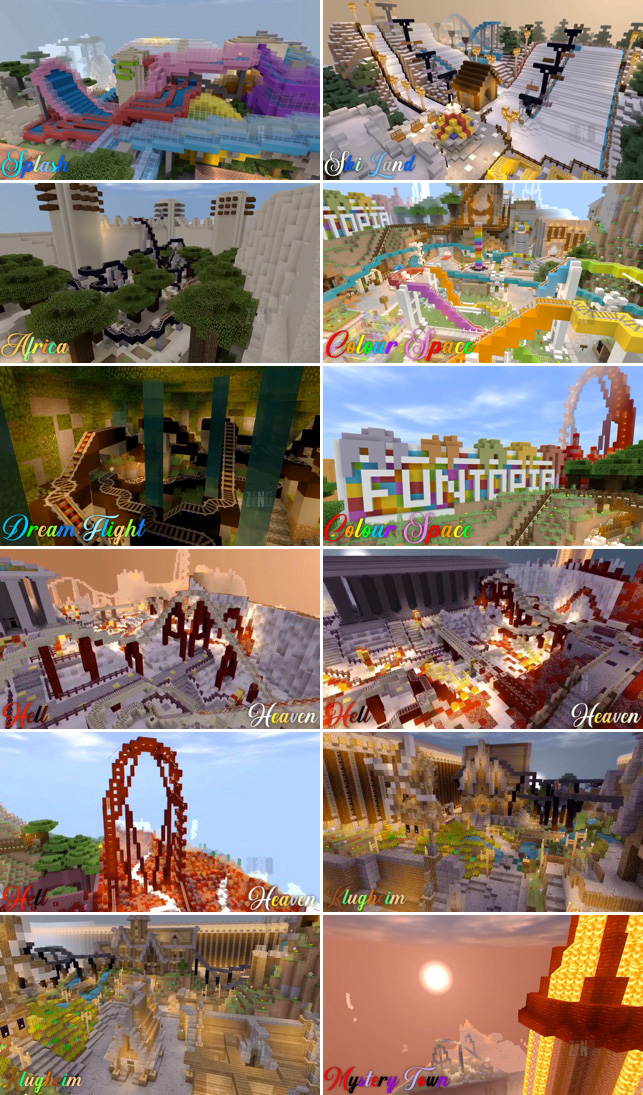 Features
With 12 themed-regions this is the biggest amusement park ever made:
Colour Space: The centre of the park!
Ski Land: For the best ski/snowboard adventures!
Klugheim: A beautiful medieval city with a double-launched coaster!
Mystery Town: Discover the castle and be sure to pass away the curse!
Wild West: The biggest western part of the park, enjoy this huge water-ride!
Splash: Have you ever seen so many water slides?
TOY: This enormous coaster with the small entertainments in the ground!
Heaven: This is the place to be for the coolest rides!
Hell: The highest coaster with a launch! What else do you want?
Dream Flight: This cave with the water flowing down, it's just like a dream!
Africa: Have you ever tried an escape room in Minecraft?!
Funtopia Camping: Enjoy your stay in the houses or in the cruise ship!
Creator's Notes
Future updates are coming!
Don't post or upload this map without giving me credits! YouTube link to: 'Zeno's Lego' and a link to this page have to be in your description!
We are very busy with building the Funtopia City!
Stay tuned! Funtopia World coming soon…
Trailer
Changelog
Started with Funtopia City!
Re-designed Wild West, Africa, Mystery Town & the upper/outside part of TOY!
Changed the "Hill Coaster" in Colour Space, "Stealth" and "World Collide" in Hell/Heaven, "Darkness Rises" in Mystery Town, the scenery around "Taron" in Klugheim, the "Haunted House" in Wild West, the bridge of "Wall Ride" in Klugheim, "Mouse Speed" in Ski Land and the Mono-Boat!
Added a kids coaster in Hell/Heaven and decor in the water at the beach!
Fixed the escape room in Africa and a glitch which occured when removing a minecart from the rails, the minecart didn't drop as an item!
Made the pistes/mountains in Ski Land rideable, the ski lifts in Ski Land rideable, it clear in what direction you have to go on the rides and the loop-de-loop in TOY rideable!
A new helper joined our team and helped us with some little decoration, to be found in the credit zone!
Installation