This texture pack was created to make Minecraft: Bedrock Edition feel, sound and look more like the original version of Minecraft called Java Edition. It uses shaders to change water and textures to change fire and lava. All of the Java Edition sounds are also included. If you're a big fan of Java Edition then you'll love this pack too!
Creator: AgentMindStorm, Twitter Account (Click here for more credits.)
Updated: 11 July, 2018 (read changelog)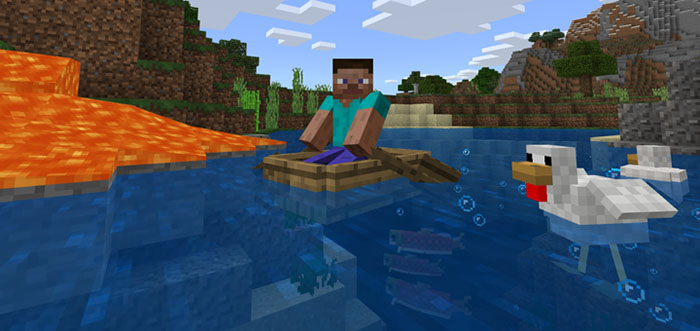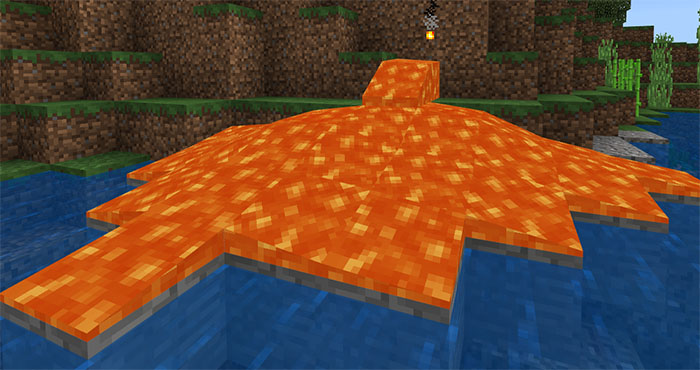 Features
Here is a list of features included.
Blocks

Horn Coral Block
Brain Coral Block
Lava
Nether Brick
Fire
Acacia Door
Jungle Door
Birch Door
Dark Oak Door
Water

Items

Pufferfish Bucket
Dried Kelp
Command Block Minecart

Interface

Highlighted inventory slot
Offhand slot icon
Selected item's name outline
Removed "New" marketplace notification
Removed beta text
Different background panorama (with the Java Aspects pack applied)
Controller tooltips For Switch, Xbox, and Generic (from Console Edition)

Entities
Animations

Kelp
Magma
Seagrass
Lava
Fire

Sounds

Cave
Weather
Chests
Doors
Damage
Digging
Fire
Water
Lava
Pistons
Minecarts
Magma Cubes
Ghasts
Players
Villagers
Witches
Zombies
Zombie Villagers
Wither Skeletons
Coral (commands only)
Seagrass (commands only)
Kelp (commands only)
Dog plays after Cat
Removed the air punch sound

Water

View distance
Surface colors
Underwater fog
Surface transparency

Language

Cooked Beef is "Steak"
All "MINECON"s changed to "Minecon"
Default fish is called Cod
Monster Spawner is "Spawner"-Spawn Eggs are "[Mob Name] Spawn Egg"
Milk is "Milk Bucket"
Seeds are "Wheat Seeds"
Sugar Canes are "Sugar Cane"
Chain Armor is "Chainmail" Armor
Smooth Sandstone is "Cut Sandstone"
Smooth Red Sandstone is "Cut Red Sandstone"
Moss Stone is "Mossy Cobblestone"
Mushroom names include their color
Mushroom block names include "[Color] Mushroom Block"
Monster Egg blocks are "Infested [Block Name]"
Slightly Damaged Anvils are "Chipped Anvil"
Very Damaged Anvils are "Damaged Anvil"
Enchanted Apples are "Enchanted Golden Apple"
Melons are "Melon Slices"
End Portal is "End Portal Frame"
Head is "Player Head"
Top Snow is "Snow"
Snow is "Snow Block"
Sea Turtle is "Turtle"
Redstone is "Redstone Dust"
Daylight Sensor is "Daylight Detector"
Brick Block is "Bricks"
Nether Brick Block is "Nether Bricks"
Red Nether Brick is "Red Nether Bricks"
Wood is "[Type] Log"
Stripped Wood is "Stripped [Type] Log"
Wood Planks are "[Type] Planks"
Wood Stairs are "[Type] Stairs"
Wood Slabs are "[Type] Slabs"
Weighted Pressure Plate ([Type]) is "[Type] Weighted Pressure Plate"
Records is "Music Discs"
Mob Skulls is "Heads"
Half Slabs is "Slabs"
Fireworks is "Firework Rockets"
Glazed Terracottas is "Glazed Terracotta"
Beta!!! is "Beta!"
Mesa is "Badlands"
Savanna is "Shattered Savanna" is some situations
Mega Taiga is "Giant Spruce Taiga"
Max Framerate (Experimental) is "Max Framerate"

Other

Explosion particles
Conduit particles
Plains biome grass color
Splash texts
Item name colors
Random block rotation
Changelog
The Behind-the-Scenes Update (2.4.1)
Added water textures from Java Edition (Thanks, @Angel_Wanderley!)
Removed the old horse models as Java Edition's were changed to be like Bedrock Edition's
Tweaked the color of lukewarm and warm ocean water to better match Java Edition
Reverted fish bucket name change as Java Edition's were changed to match Bedrock Edition's
Monster Spawners are now just Spawners
Added coral and wet grass sounds from Java Edition

Play them with commands using /playsound [dig/step].[coral/wet_grass]
Currently, they don't play in game. They're set up to, but the game is bugged and plays the stone sound instead
Vote for the bug to be fixed here: https://bugs.mojang.com/browse/MCPE-35181

Added an underscore between wither and skeleton in the wither skeleton sound names

They are now played with /playsound mob.wither_skeleton.[death/idle/hurt/step] @s

Updated main menu panorama
Removed kelp textures as they were officially added to the game
Fixed the crash on world load when in the Beta – remember to use beta mode!
Fixed kelp animations being too slow and fading
Deleted unused sounds left over from the PC GUI Pack
Installation
Open Minecraft
Settings > Global Resources > Activate the pack