This add-on adds more mobs which you can leash by using the lead. By default it's limited just passive mobs, but this is great if you want the use for lead to extent to also hostile mobs or passive mobs which previously wasn't included. For example, it's very useful if you are building a mob farm and need a way to move easily move mobs from one location to another without commands or similar cheats.
Creator: hiccupsf, Twitter Account
Updated: 25 May, 2018 (read changelog)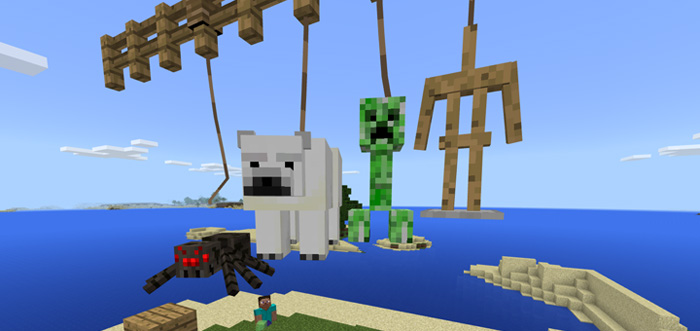 How does it work?
Here is a list of all new entities which you can leash. Sheep, pigs or any other vanilla mobs are still possible to leash even though they aren't included in the list.
Armor Stand
Creeper
Enderman
Parrot
Polar Bear
Skeleton
Slime
Spider
Villager
Zombie
Zombie Vilager
Zombie Pigman
And more!
Changelog
Added new mobs for tie. You can tie 39 different entities.
Added support for 1.4. It isn't supported on 1.5 yet. Some mobs don't work correctly. When 1.5 release, a new version of the addon will be published.
Installation
Activate the pack for a world in-game