This add-on includes 7 different packs which replaces the existing Trident with new 3D weapons which you can use to cause some serious damage. To enable a specific weapon you need to enable the resource and behavior packs for a world in-game. The packs included include cool weapons such as Throwable TNTs and Thor's Hammer (Mjölnir) and each weapon has different behaviors.
Creator: TheEnderface, Twitter Account
Updated: 31 March, 2018 (read changelog)
How to obtain the 3D weapons?
The easiest way is to create a new world and toggle on the Use Experimental Gameplay option in the game options. This is required or else you will not be able to find the weapon in-game.
Each new weapon has new behaviors based on the intention of the weapon. A great example of that is the Throwable TNT weapon.
As all other 3D weapons it replaces the Trident once its resource and behavior packs have been enabled for a world. Throw the block and then wait a few seconds for the explosion.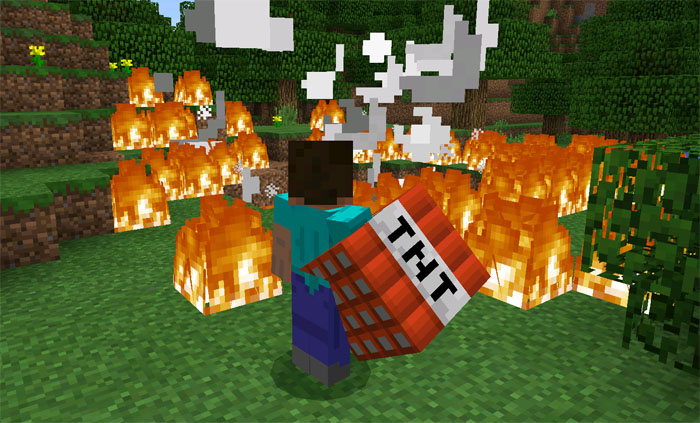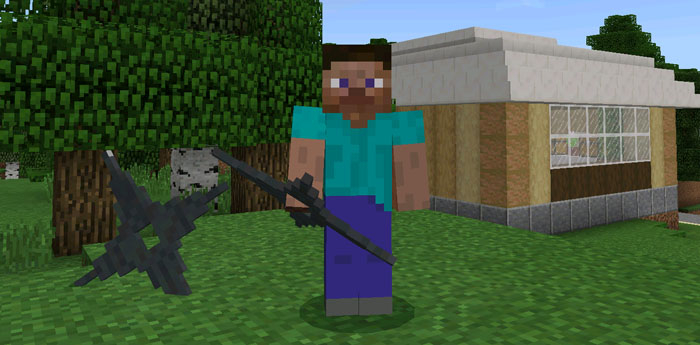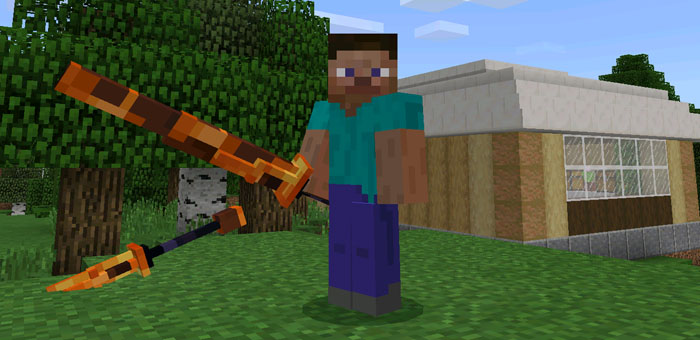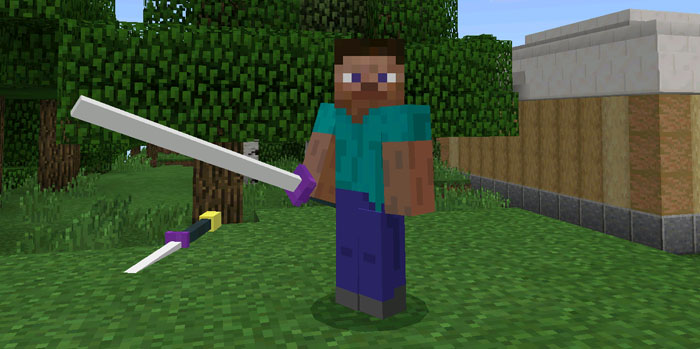 3D Weapon Features
Enderface Sword: Spawns an Endermite which helps the player
Magma Sword: Spawns lava particles which cause brutal damage (100 attack damage)
Thor's Hammer: Spawns lightning
Throwable TNT: Throws an primed TNT block
Lightsaber: Increases your speed by 20-30% when holding it
Kunai: Increases your attack damage when holding it
Shuriken: Reduces gravity when throwing it
Trailer
Changelog
Added Thor Hammer (Mjolnir)
Added Throwable TNT
Added behaviors for each weapon
Added item names
Added skill names
Installation
Important: This pack requires the latest Minecraft beta. It's available for Windows 10, Xbox and Android users. Scroll down to the bottom on this page to read more about how to join the latest beta. Also remember that both the resource pack and the behavior pack have to be enabled for a world in-game for it to work
Download one of the following packs:

Start Minecraft
Settings > Global Resources .McPack
Activate the pack