This add-on implements five new Battleaxes and one new Emerald Sword. All of the new weapons are literally add-ons as they don't replace any of the existing items in-game. They are also entirely different from ordinary Minecraft weapons as they give players new powers when using them. Upgrade your arsenal of weapons today!
Creator: solvedDev, Twitter Account
How to obtain the new weapons?
All weapons are sold by a new merchant known as the Weapon Smith. (Transform any villager into a Weapon Smith by using an Iron Ingot to interact with a villager.)
You will have to do some trading with him in order for him to unlock more trades. However, you could also use the following text command in-game to obtain the new weapons: /give @s yellow_flower 1 [1-7]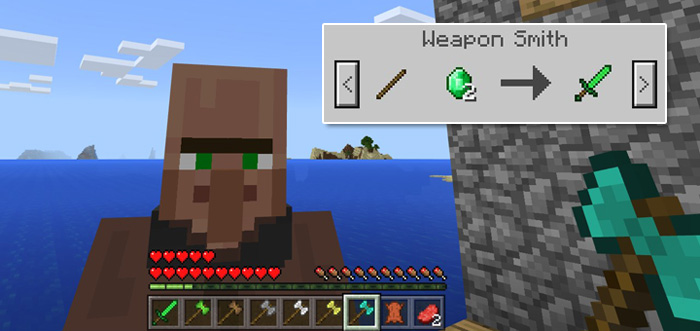 There is one new sword and six new battleaxes. Each new weapon will give the player a new power while being wielded. You can find a full list of the weapon features further down on this page.
The More Weapons Add-on makes fighting so much more enjoyable. All weapons have different abilities, but none of them are overpowered as they have been balanced to also include some disadvantages (such as decreased walking speed for weapons which would be heavier in real life).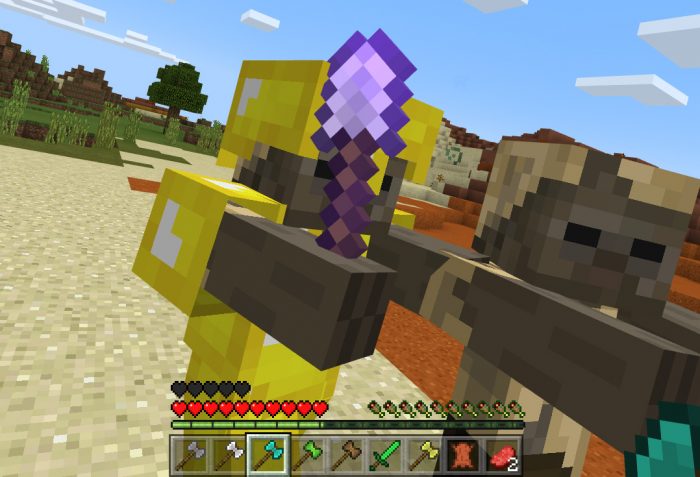 Weapon Features
Emerald Sword

Damage: 5
Increased speed

Emerald Battleaxe

Damage: 6
Increased health (+3 hearts)
Walks slightly slower

Wooden Battleaxe

Damage: 5
Increased health (+1 hearts)
Walks slower

Stone Battleaxe

Damage: 6
Increased health (+2 hearts)
Walks slower

Iron Battleaxe

Damage: 7
Increased health (+3 hearts)
Walks slower

Gold Battleaxe

Damage: 5
Increased health (+2 hearts)
Walks slower

Diamond Battleaxe

Damage: 8
Increased health (+5 hearts)
Walks slower
Installation
Activate the packs for a world in-game