This add-on implements a new entity to the game called an NPC. NPC is short for non-player character and is an entity often found on multiplayer servers. They are essentially entities with no behaviors and their only use is to represent either a minigame or similar.
Creator: WavePlayz
Other Credits: cuteness, DragOnD, abc55
Updated: 18 December, 2018 (read changelog)
How does it work?
This add-on is based on the NPCs (non-player characters) that you usually see in servers. You can spawn the NPC by typing the following command in the chat: /summon npc:wave.
As the entity has no gravity effect or any kind of behavior, it can be summoned even in mid-air (floating).

You can name the NPC by using a name tag. (Use an anvil to rename a name tag and then use it on the NPC.)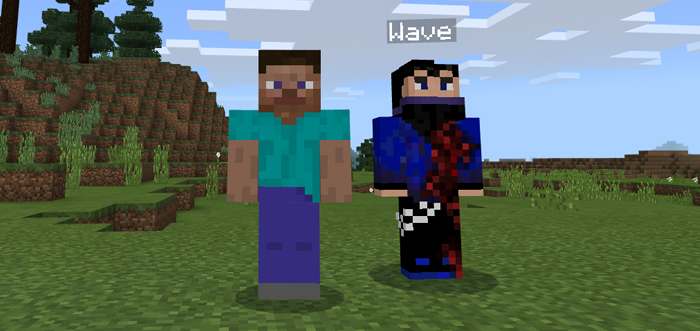 Some of the NPCs have animations such as Fortnite animations, dab etc.

You can change the skin of the NPC by replacing the skin in the add-on files.
Changelog
NPC v3:
Added spawn egg for all NPC
Added new entity which u can use as floating text
Added Animations on few NPC (some fortnight animation, dab etc… )
Installation
Apply the packs for a world
Create the world