This add-on adds tents, campfires, fireflies, and more. A direct inspiration from the anime show Yuru Camp. Featuring a new cooking system into the game thanks to the bonfire.
Creator: CodanRaigen21, Twitter Account
Tents
6 variants, long press with the following wool colors to change their colors and use a tripwire hook to zip them up and vice versa.
Blue
Red
Yellow
Green
Orange
Silver
Log Bench
Log bench – These are horizontally placed logs which can be used for sitting down. There are 2 seats for each player, it has 6 variants for all log types. You can change their textures wtih the following items:
Oak log
Spruce log
Birch log
Jungle log
Acacia log
Dark oak log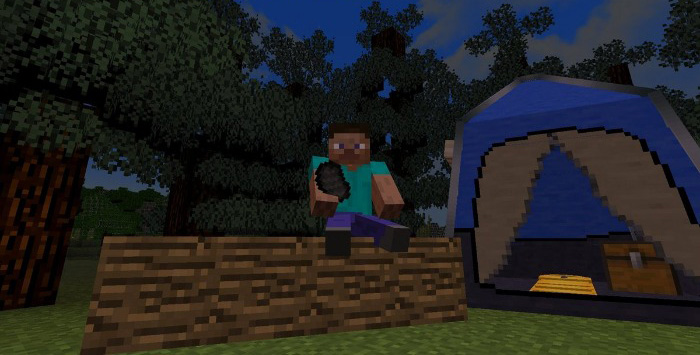 Sleeping Bags
You can basically sit on them while being decorative. It also has 6 variants, same colors as the tent. color them with the following wool
Blue
Red
Yellow
Green
Orange
Silver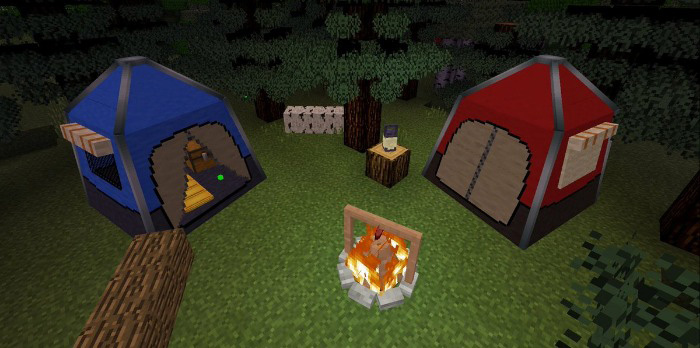 Bonefire
To add the fire, light up the block with fire before spawning it on top. Build the campfire using sticks, it has 8 levels. You can cook raw porkchops and beef after you build the last 3 sticks or the final level. This is where the fun part begins, long-press with either raw beef or porkchop to watch your item cook. You have 4 stages:
This event goes randomly between 5-10 seconds so be alert.
Raw> Mid-raw> Cooked> Burnt
You can use a stick to take your items.

Bonfire Video Tutorial:
How the bonfire works. It changes every 5-10 seconds. Be quick, it might burn. pic.twitter.com/s9zccdrv6F

— CodanRaigen21 (@real_cr21) November 25, 2018
Mid-raw beef and porkchops: inedible items added for the bonfire minigame
Burnt beef and porkchops: inedible items added for the bonfire minigame
Lamp
Although being decorative on its own, it's also a skin for the torch. Place the torch first then spawn the lamp. Note that this only works on the ground and cannot hang like how a torch would.

These won't naturally spawn, they're peaceful and only for decorative purposes.
Installation
Note: Aesthetical PE was used for the photos to add effects. That resource pack is downloaded separately. (I'm the creator too)
Apply the packs for a world
Create the world