This add-on adds the Sofa Car to your game. It's the perfect vehicle for the (lazy) Minecrafter as it adds a sofa on wheels. It's a very convenient and fast way to get around! It's driveable by one person and you can dye it into any of the 16 different colors (using dyes). This add-on is available in four different languages: English – GB, US, German and Czech. It was inspired by "flying sofas" from the Wall-E film, but wheels were added to it.
Creator: Nogard, Twitter Account
How does it work?
Feeling lazy today? It's OK! Now you can be a lazy couch potato while playing Minecraft. The Sofa Car is really a dream coming true for most of us.
iOS / Android: Long press on the vehicle and press Drive
Windows 10: Right-click on the vehicle to drive it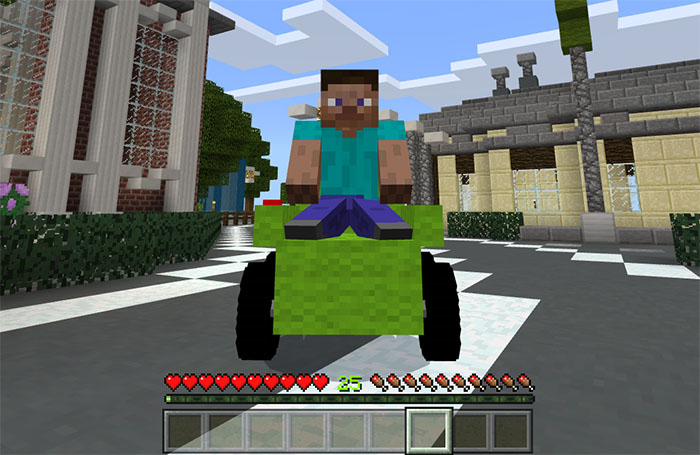 You can dye the Sofa Car using any of the 16 different dyes in-game!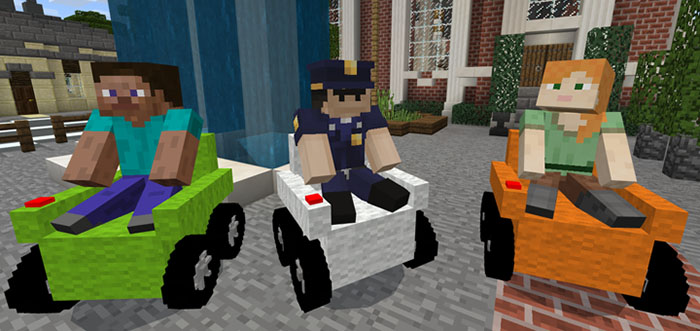 General Features
Replaces Sheep
Driveable by 1 person
Can be colored with any dye (only the textile material, not the button/wheels)
Custom sounds
License terms
All rights reserved. By downloading of this Minecraft addon you agree with this terms. No part of this work may be reproduced or transmitted without author\'s permission. Person with permission must share the addon only with official download links and credits to author. Illegal distribution of this addon in apps, websites and YouTube videos and earning money from Nogard\'s ownership will be punished by law. For other ways of sharing and editing the source code, you must contact the author.
Installation
Activate the packs for a world in-game