The Aether Trident is a new item which as godlike powers. By using this item you will become faster, have more health and also be able to fly. Just make sure you don't lose it because then you will lose all the benefits until you find another Trident. Just keep in mind that you will need to latest beta (or Update Aquatic) in order to use this add-on.
Creator: Keyyard, Twitter Account
Updated: 14 April, 2018 (read changelog)
How does it work?
The Aether Trident have multiple different uses, but one of its main powers is its ability to let you fly. Equip the Trident in your hand and you'll immediately start flying up into the air. To stop flying just select another slot in your hotbar and then select the Trident again and you will slowly start floating safely to the ground.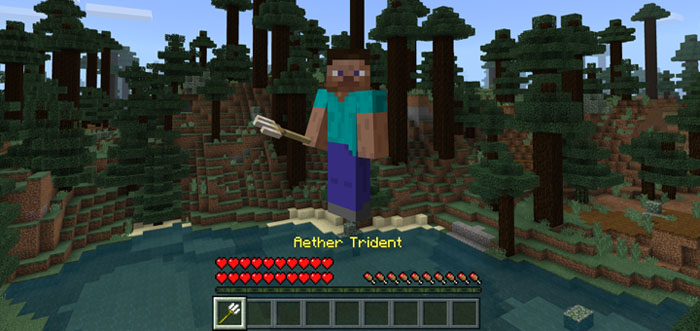 Besides flying you will also increase your health and speed by twice while holding the Trident in your hand.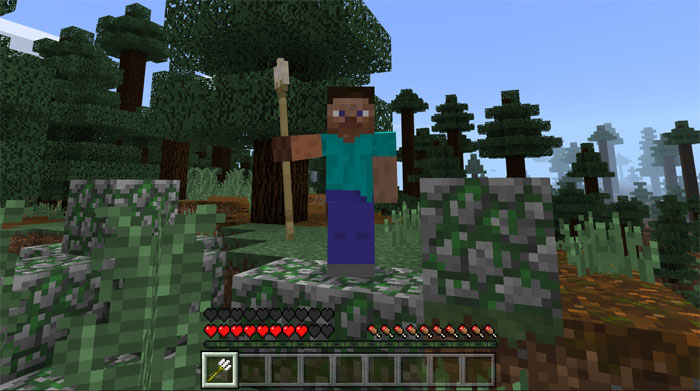 General Features
Double health
Double movement speed
No fall damage
No gravity (available to fly, move in water / air)
Supports all languages
New golden texture
Changelog
New pack icon
Less file size
Added when you throw the Trident and it hits something it will spawn a lightning strike (Thanks to @TheEnderface!)
Terms of Use
By using this addon or any of my creations, you agree to the following terms of use listed here. You should be aware that stealing other people's content online is a crime. This also happens to addons too.
You cannot redistribute or re-publish this addon or any of my creations to any site / place without me being credited, without asking any permission to me, and without the original source where you got this addon ( mcpedl.com ).
You do not have the right to rename and edit this addon or any of my creations. Then, claim it as yours and upload or share the edited version into your site.
You are not allowed to create your own direct download link for your websites, videos, and etc. It must be redirected to the original website of the addon ( mcpedl.com ).
Installation
Activate the packs for a world in-game