This Ultra Amplified Survival World features absolutely insane landscapes and is full of normal Minecraft structures. It was originally generated on Java Edition and then ported over to Minecraft: Bedrock Edition. This is likely to be one of the most crazy terrains you'll find for Minecraft and it's all done by messing around a bit with the Java world generation code.
Creator: TelepathicGrunt, Twitter Account
Updated: 20 June, 2018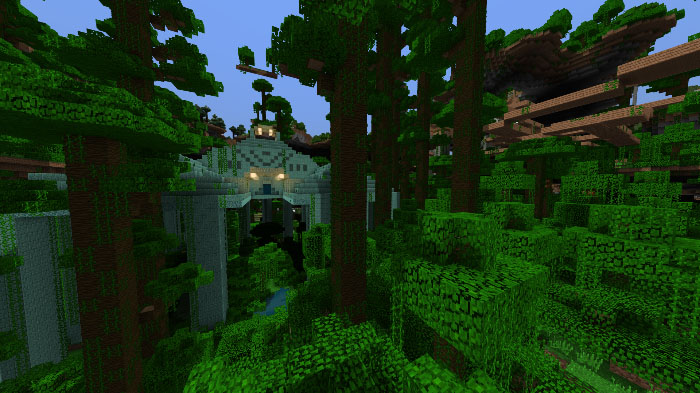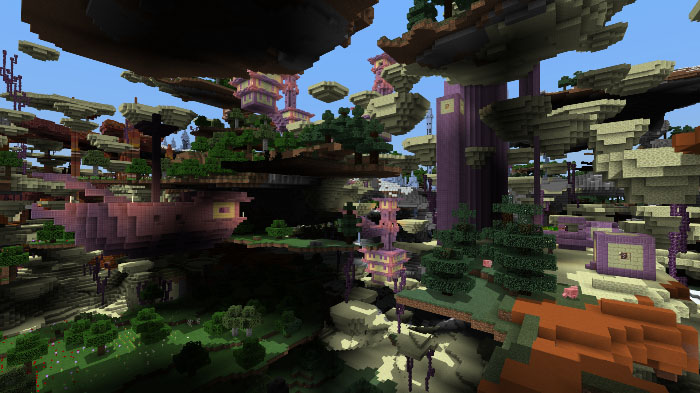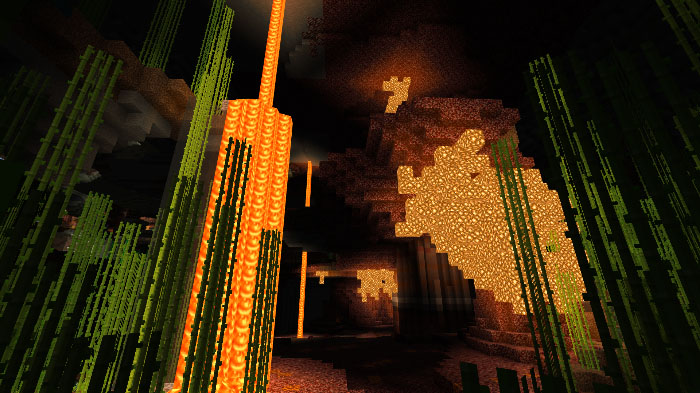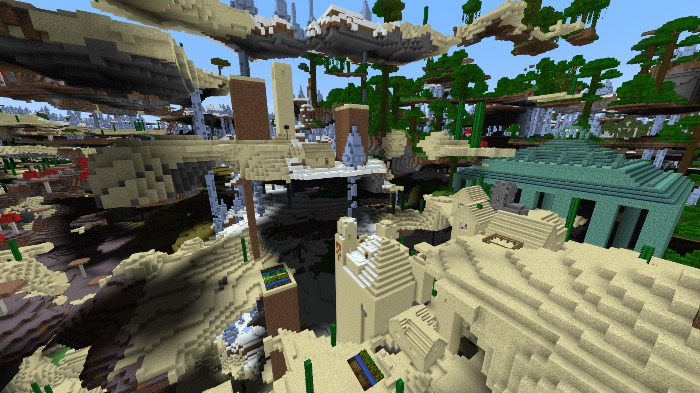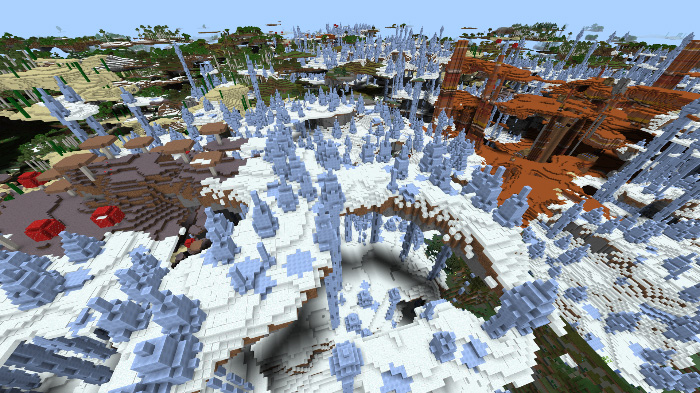 Note from creator (TelepathicGrunt): 
This is the second release of my Ultra Amplfied map/mod which is now even better than before! Some new additions are the Nether Biome with Nether Fortresses, End Biome with End Cities, Bambo Forest Biome, Stone Beach Biome, many new variants of Villages and Mineshafts, and much more!
Here's some cool pictures of the world to show how crazy it is! https://imgur.com/a/6KIP2hx
I made this map by downloading Java Edition's codebase from the ModCoderPack website and messing with the world generation code. Then I explored a 2400 block by 2400 block area and turned that into a Java Edition Map! Using an awesome program called MCC Tool Chest PE, I converted the map from Java Edition into Bedrock Edition as well! Now you can play this amazing world on either edition or if you wish, you could also play this world as a mod for Java Edition only! Enjoy and be sure to offer any suggestions or advice about my map to me so I know what to do when the Aquatics Update code gets released on ModCoderPack site!
**NOTE: for the mod, read the README.txt file in the folder you download to understand how to add the mod to Java Edition. You will also need a beefy computer or you'll lag heavily!**<
Download Link for Java Edition mod:  http://www.mediafire.com/file/dh26uxwh030z24c/Ultra-Amplified_Mod.zip/file
And just for fun, if you want to see all the changes that I had done, here's a text file of everything I changed in the world generation!:
https://www.dropbox.com/s/bju0d6bvwimix0y/UltraAmplified_Changelog.txt?dl=0
Features
Landscape is in layers and form massive floating islands and overhangs.
Biomes are shrunken down to reduce travel distances between biomes.
Added Slime Lakes and made them spawn frequently so you have a safe place to jump down from cliffs and floating islands.
Turned underground into a massive maze of nothing but ravines with the occasional gigantic rooms with floor being entirely lava.
Increased spawn rates of many structures as well as added some modifications to how or where some structures spawn.
Dungeons spawn very frequently above Y = 150 but still though to find with the crazy landscape.
And much more! Here's a full list of changes/features: https://www.dropbox.com/s/m9yh6lpqiowdyjw/MinecraftCodeChanges.txt?dl=0
Video Showcase
Installation
Note: This file exceeds 100 MB!