This is a really cool texture pack which adds all of the new blocks which will be introduced in version 1.12 of Minecraft for PC. It's still not known when we will see these blocks in Pocket Edition but if you want to get sneak peek already then you can use this texture pack.
The best part about this pack is that neither of the blocks in-game will be replaced. This means that you can use the new blocks without having to worry about losing any of the vanilla blocks.
Creator: Goreckicraft123, Twitter Account
How to get the blocks?
All of the blocks (except for wool which will be replaced by the new wool) don't replace any of the blocks in-game. The downside with this method is that it's only possible to obtain them by using text commands or using the included showcase map.
Here is a list of commands which you can use to obtain the new blocks. For example, if I wanted to obtain one of the new terracotta blocks then I would need to type the following command:
/give @p red_sandstone 1 5
Concrete Powder: /give @p dirt <amount> [2-15]
Terracotta Blocks: /give @p red_sandstone <amount> [3-15]
Bone Blocks: /give @p quartz_block <amount> [3, 7]
Clay Blocks (new color palette): /give @p stonebrick <amount> [4-14]
Wool Blocks (new color palette): /give @p wool <amount> [1-15] (replaces normal wool)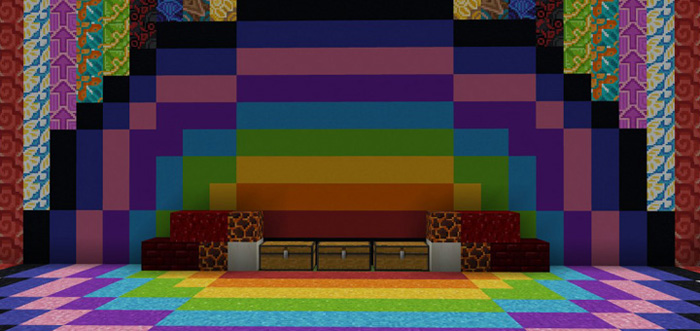 Terracotta Blocks (they don't rotate properly and as a result you can't create any cool patterns):

New color palette for clay and wool blocks (the new wool actually replace the vanilla wool blocks in-game):

Concrete Powder:

Bone Blocks: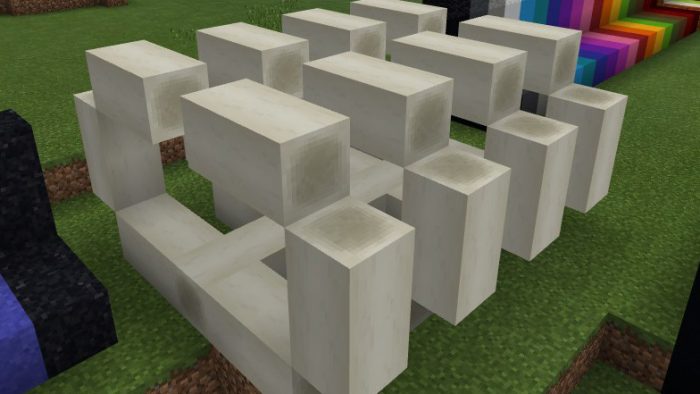 Installation