One of the most well-known, if not, THE most well-known racing machine from the NASCAR series in the golden age of NASCAR. The Superbird otherwise known as The King, extremely fast for its time, so fast, that it was banned for being too fast 1 year after its introduction, and iconic, possibly being the icon of NASCAR.
Origins
"In Autumn 1968, Richard Petty left the Plymouth NASCAR Racing Team for Ford's. Charlie Grey, director of the Ford stock car program, felt that hiring Petty would send the message that "money rules none". However, the Superbird […]" –Wikipedia
Car details
Has extremely high speed, 1 seat (its a racecar), animations and sounds.
Car color
Obviously, there is only 1 color suitable for this beauty:
Light Blue
Front-rear view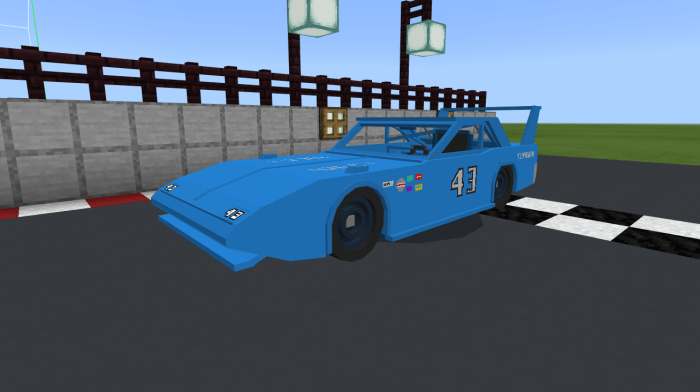 Side view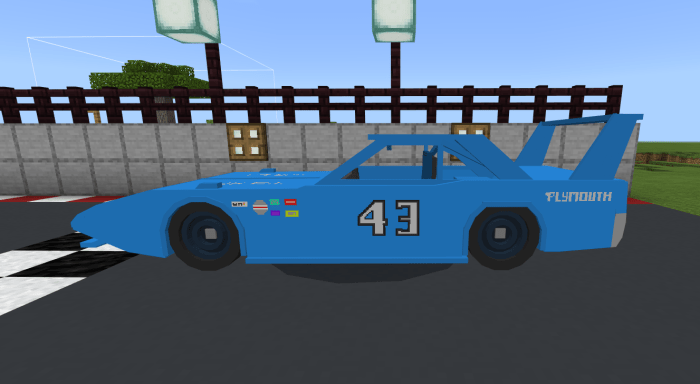 Back view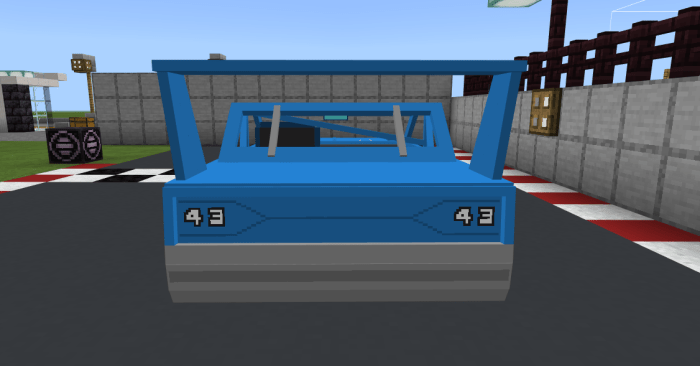 Interior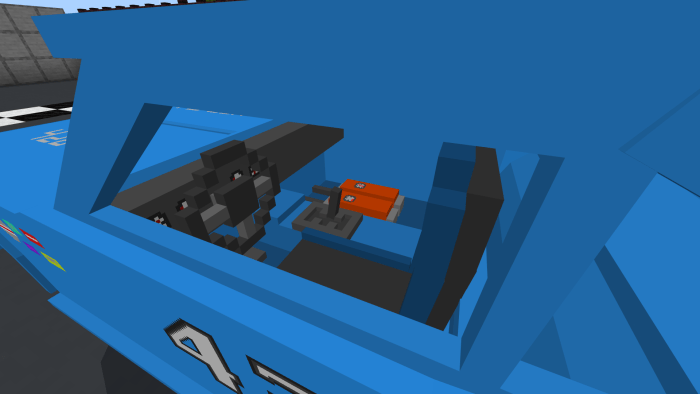 How to obtain
Method 1: Get their spawn eggs from the Creative Inventory.
Method 2: Use /summon command:
/summon 70psn:def
Contacts
Twitter account: @ashminggu
Instagram account: @ashminggudev
Email account: [email protected]
Problem with AdFly?
Contact me through one of my contacts listed above and I'll send you a direct download link, no AdFly redirections!
This addon is exclusive for MCPEDL. Any other websites that distribute this addon without my approval are false and are an act of plagiarizing.

Installation
1. Download both Resource and Behavior packs. The files are below.

2. You will be sent to the Adf.ly redirection page. Just wait 5 seconds and skip. (Note: You'll might be ask to allow some notifications, just deny all of them).

3. Wait for another 45 - 60 seconds at the "Please press 'Allow' to continue" page.

4. Download the files.

5. Once downloaded, click on the files and it will automatically open up Minecraft to start importing the files!

Downloads
Supported Minecraft versions
1.14
1.15 (beta)
1.16