Admin Essential Basic+ (formerly AF&T) provides not just some useful tools but also to have fun – with the trolling pack installed with it. From vanishing through thin air, getting effects and powers, to spinning players whole day – this function file has those all!
created by: r4isen1920
pack version: v1.9b
Command Usage
A. Main Commands
Here is the list of main commands! You can do this by typing . If help doesn't show or work, you can try using the command to reload and make sure you have permission (opped) and is installed properly on your LAN host server.

B. Powers
Powers are essential for your Minecraft adventure. You can use them at anytime you want, and anytime you may having a trouble.

C. Tools & Useful Commands
These commands can help you in your world as a loving operator! Some commands can do alot in your world, such as helping clear the lag or making the world smooth as possible and vanishing from thin air to see what people are up to if you are seem to not around..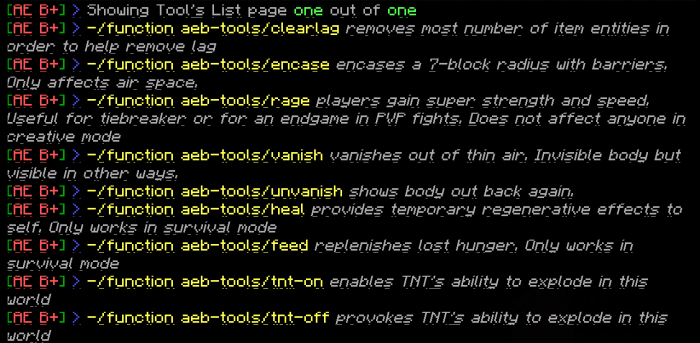 D. Trolls & Fun Commands
With total of 15 troll commands and features, you can use these to troll not just your friends, but also your family! Your cousin, your parents, and even your dog (dog plays Minecraft?). Some commands can give an annoying effect., and some can provide lag. So, use these trolls wisely. Have fun!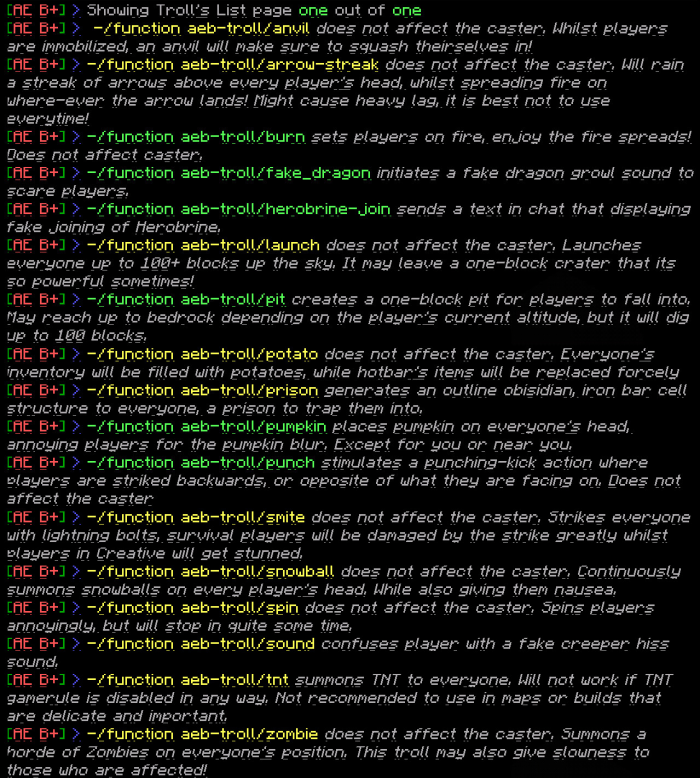 Minor Changes
iOS support for version 1.4! It should now have a 'checked' mark upon the activation of the pack
Minor changes for the help commands.
More Information
ReadMe.txt as always. Make sure to read it otherwise you'd be missing something.
 This update includes a total of 6 additions. And optimizations, bug fixes for most features and/or commands, A command syntaxing has also changed, please read the new command syntaxing in help commands carefully.
 For a complete list of Changelog, read the 《 CHANGELOG,txt 》 includes with the .mcpack or .zip you have downloaded respectively.
Tweaked pack description to avoid further confusion.
Changed download links - this'll be for this particular creation only and is temporary.
For a complete list of the detailed changelog, view the .txt file provided with the original archive.
Sorry for the previous links, it'll never happen again!
Tweaked Rage function. No more game crashing, and players even in Creative mode can now enjoy the effect of the Rage mode!
Download link fixed. Sorry for the ads, don't worry - I am not asking you to enable notifications, it'll only take around 5-15 seconds depending on the ad shown.
Installation
Ads? Here's how:

Open the download link below, It should take you to an Ad
Click 'Skip Ad' after the short 5 seconds of waiting
You'd then be redirected shortly.
Download the map
Installation of the map can be found directly from the txt file should be available in the archive!
iOS/Apple Download
Download the direct .mcpack from the link above.
Open the .mcpack; Minecraft should open and import the pack!
If you have the previous version, delete that first in your game resource settings.
Downloads
Supported Minecraft versions
1.11
1.12