Tired of traveling far away from one place to another? Admin Warp serves you right! This function's pack has a variety of commands that allows you to travel or warp/teleport between places instantly! With particle customizations, and more!
Command's List
For starters, you can type /function aw/help to show the main help command. Kindly read the command syntaxing carefully so that you can maximize your usage as possible!
Here's the list of commands for warp:
Adding a Warp
To travel between places, you can add a warp point. With a warp point, you can easily get through that location instantly wherever you are in your world.
First off, place an armor stand. This is the point or location where that warp will be set! Note that punching or breaking that armor stand will no longer be teleported into. If you don't want the armor stand to be displayed, you can simply type the command /function warp/invis to make that armor stand invisible with ease!
Rename the armor stand. This'll identify if this is a true warp point in your world! You can rename it to "Warp-1" up to "Warp-10" respectively. It means, that you are allowed to add up to ten warps per world.
Thats almost it! To teleport to that warp point, simply type the command /function warp-to/<1-10> . Example: /function warp-to/4.
Confirm all available warps by using the command /function warp/list.
Customization
Show off to your friends! Customize! You can enable up to 4 particles at once everytime you warp into a specified place. Or, make a combination for your own!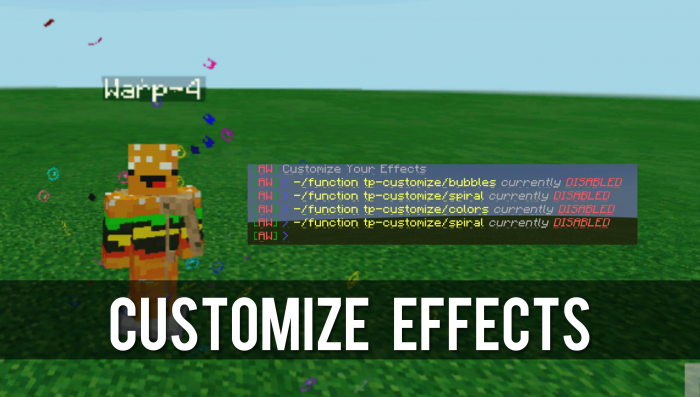 Additional Information
Everyone is allowed to post it on YouTube, as a showcase for an AddOn or a mod. I just kindly ask that you put the ORIGINAl download link in your description or in any way your user's download it.
Do not claim this as your own, nor use the commands for your own creation without my valid permission. Contact me on twitter, not here at the comments in regards to that!
To maximize the experience and quality, and to use the customization effects, enable your Experimental Gameplay!
If you want non-operator players to use warp, please tell me below. I am currently working on to that, and should be off sometime soon! Stay tunned!
For bugs, suggestions, etc.: kindly tell me in the comments below.
Installation
 If you seen an ad, its normal and I thank you for your time! Just please wait for that 5 seconds of waiting, and then you'll get your long hours of hard work from mine! Enjoy.
 Wait for 5 seconds and then click 'Skip Ad' on the top left corner
 A zip file should be cirectly downloaded. It should be renamed 'Admin Warp.zip' or something similar.
 For mcpack installations, you can simply open it and Minecraft should automatically import and launch.
 If you have problems installing, seek the READ-ME.txt file inside the archive as well.
Downloads
Supported Minecraft versions
1.10
1.9