Are you bored of your bow? Does it feel boring now? How about giving it another functionality like explosive projectile? Let's make it happen! No need to type anything. Just install this Addon on your map and you are ready to go!
Features:
– 5 firing modes to choose
– Multiplayer mode-friendly
– Compatible with my Show HP mod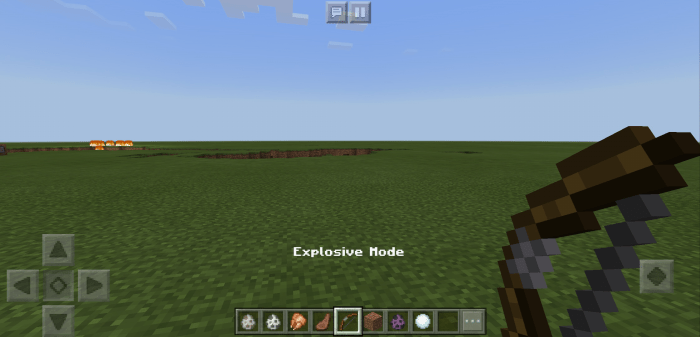 Normal
– Normal bow, nothing new
Explosive
– Explodes on hit
High Speed
– High speed projectile, deals more damage
Flame
– Set the entity hit on fire
Gatling
– Shoots projectiles rapidly
Antigravity [NEW]
– Make the entity hit float for a short period of time
Lightning [NEW]
– Entity hit will be struck by lightning
Teleport [NEW]
– Teleports you where the arrow lands
NOW WORKS WITH CROSSBOW!
How to use:
1. Equip your bow
2. Go sneak
3. Attack to change firing mode
NOTE: NO NEED TO TURN ON EXPERIMENTAL MODE
Added new firing modes
- antigravity
- lightning
- teleport
Now works with crossbow
Nerfed gatling damage
Since fclc link is not working, I added adfly.
- Fixed download link.
- Added adfly. 
Downloads
Supported Minecraft versions
1.14