AgameR Fireworks Mod adds three types of fireworks to the game. The first firework will shoot a trail of fire up into the sky. After reaching about 20 blocks high it will start bursting into flames, then explode and create a beautiful rain of colored particles. The second firework has a similar effect but instead of bursting up into the sky it will explode at ground level. The third is similar to the first one but much greater.
Creator: peacestorm, Twitter Account
How to use the fireworks?
All fireworks should be able to be accessed in the creative inventory but you can also use the following crafting recipes to get them.
Firework Rocket (1000) - 2 papers + 2 gunpowders
Firework Fountain (1001) - 1 paper + 1 gunpowder
Super Firework Rocket (1002) - 4 Firework Rockets
In the first image you can see the Firework Rocket in action.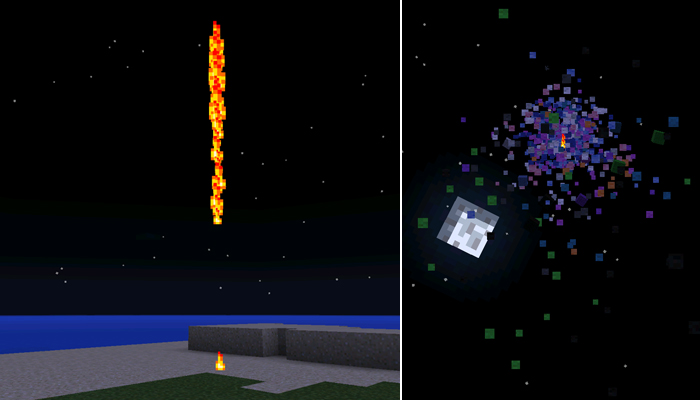 Here in the second image you can see the Firework Fountain exploding.
The Super Firework Rocket is my favorite of them all. It's a much greater explosion compared to any of the other.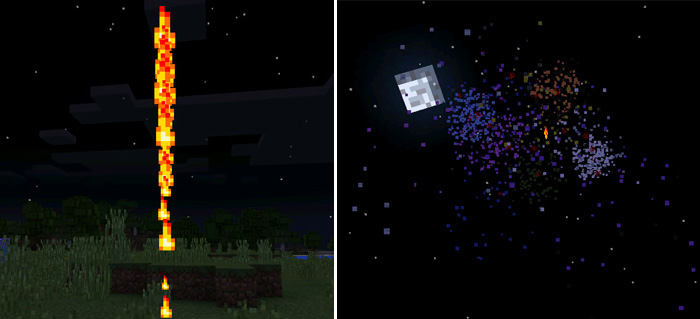 A new feature which I really like is the possibility to fire off several fireworks at the same time.