The Agriculture Mod adds a set of 7 new vegetables to the game which can be planted with its own seeds and grown into full plants which then can be harvested.
Besides the new farming features it also opens up for more dishes like salad, popcorn, rice soup and veggie pizza. All recipes which in some way originates to your own freshly harvested vegetables.
Creator: Kingbudderjr
How to get the vegetables and plant them?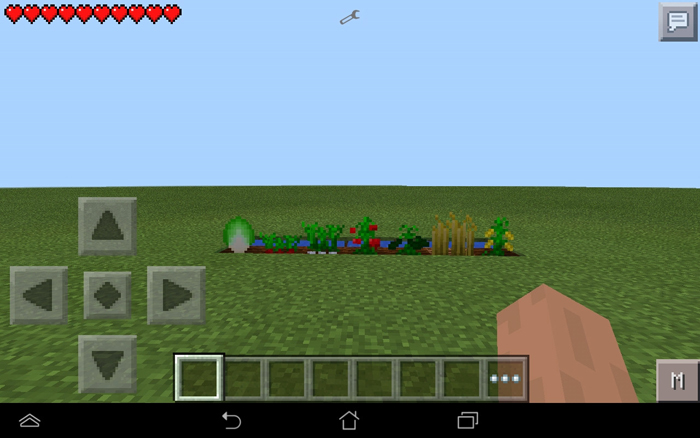 Find and cut down some grass to find the vegetables. When you've got them you can go to the crafting table and turn them into seeds.
The seeds can then be planted on a farmland block. Draw a hoe on some dirt blocks to turn it into farmland blocks where you can plant the seeds.
How to harvest the plants?
When the plant looks to have fully been grown it's time to harvest the plant. Simply punch it with your fist in-game to harvest it and then collect the vegetable and seed you will get.
Cooked Food & Recipes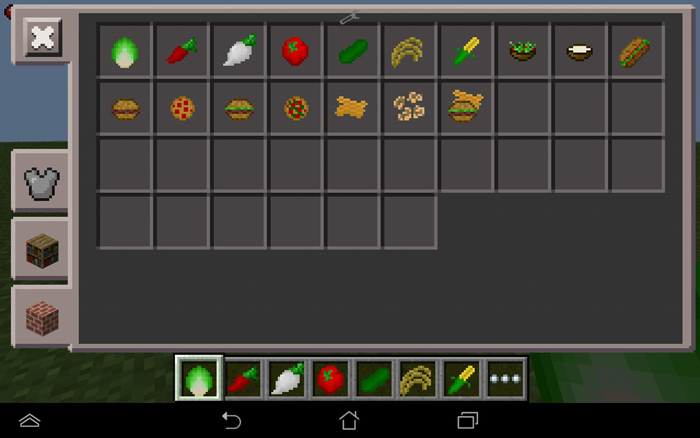 Salad – 493 – Craft: 1 lettuce + 1 tomato + 1 cucumber + 1 bowl
Rice Soup – 494 – Craft: 3 rice + 1 bowl
Veggie Sandwich – 495 – Craft: 2 bread loaves + 1 tomato + 1 lettuce + 1 cucumber
Hamburger – 496 – Craft: 2 bread loaves + 1 steak
Pizza – 497 – Craft: 4 bread loaves + 1 tomato
Lettuce Hamburger – 498
Veggie Pizza – 499 – Craft: 1 pizza + 1 radish + 1 lettuce + 1 cucumber
Fries – 500 – Craft: 4 baked potatoes
Popcorn – 501 – Craft: 1 corn in a furnace
Big Meal – 502 – Craft: Lettuce Hamburger + Fries
Basic Food IDs
Lettuce – 479
Radish – 480
Sugar Beet – 481
Tomato – 482
Cucumber – 483
Rice – 484
Corn – 485
Seed IDs
Lettuce Seeds – 486
Radish Seeds – 487
Sugar Beet Seeds – 488
Tomato Seeds – 489
Cucumber Seeds – 490
Rice Seeds – 491
Corn Seeds – 492
Block IDs
Crop – 190
Crop Lettuce – 191
Crop Radish – 192
Crop Sugarbeet – 193
Crop Tomato – 194
Crop Cucumber – 195
Crop Rice – 196
Crop Corn – 197