How scary can Minecraft be? This map is based on the gameplay style of the Alien Isolation and features single player horror, Custom Sound effects, a dynamic alien that hunts you down and Advanced command block features. Custom Animated textures going to be added in a next version, maybe,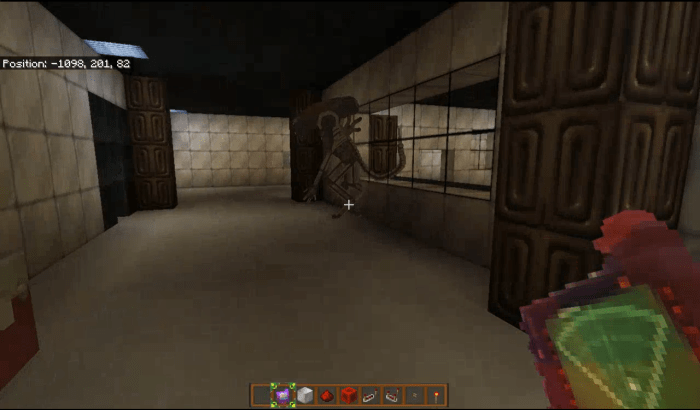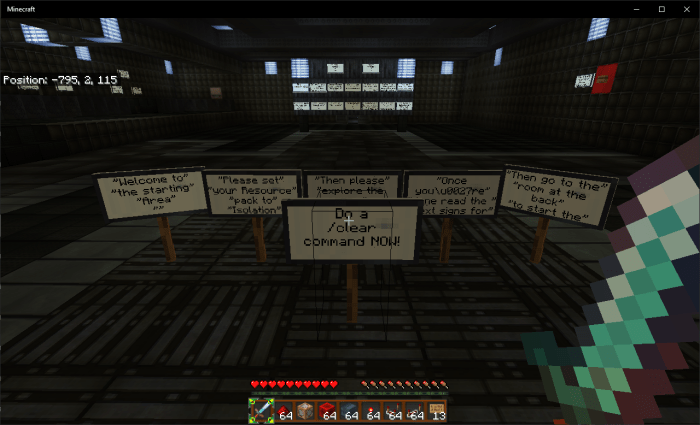 Map Info:
Features Breakdown:
Single Player( NO MULTIPLAYER SUPPORT!!!)

Animated Custom Resource pack ("Texture pack") – NOT ANIMATED YET

Custom Sounds (A lot)

Working Motion tracker

Custom Mobs

A Dynamic Alien (Unpredictable)

20min-40 min of Gameplay
ONLY PRESS THE BUTTONS ONCE!!! THIS IS IMPORTANT!!! IF YOU PRESS THEM MORE TIMES YOU ACTIVATE THE NEXT STORY LINE!!!
No Mods are required for this map; it runs with completely Vanilla Minecraft however it does require use of the resource packs included in the map.
WARNING YOU MUST USE THE CUSTOM RESOURCE PACK! DONT WORRY IT COMES IN THE SINGLE DOWNLOAD WITH THE MAP!
If you find any bugs please leave a comment so I can fix them. Thanks!
Also, if you make a YouTube video please leave a link so I can check the videos!
V4 released:
- I left a redstone torch accidently at the start which is opened a door and players went through the door(they skipped start)
I destroyed that redstone torch, so now you can't skip the start.
V3 update released:
- Fixed Fuse checking system at the start
- There is a bug at the end in the cooling rod room. (Still trying to figure out how could i fix it but you can still finish the map without any problem)
V2 update pushed:
- Fixed start (now you can start the map, sorry for any problems there is a lot of redstone stuff i have take care and i forgot to open the starting doors)
First release. Might have some bugs, but i'm gonna fix them in the next version.
You can still play this version (if you want).
This is the very first version of the map. I might make the textures animated and fix some other bugs in the next version.
Downloads
Supported Minecraft versions
1.13