This addon adds a variety of new animals that are not yet in Minecraft.for now this is still in beta,Hopefully it will develop into an interesting addon for the concept of animal concepts in Minecraft going forward, and there will be many animals, and the behavior of animals is real. This addon can be support in versions 1.8, 1.9 and 1.10 beta
Creator: Reza112, Twitter Account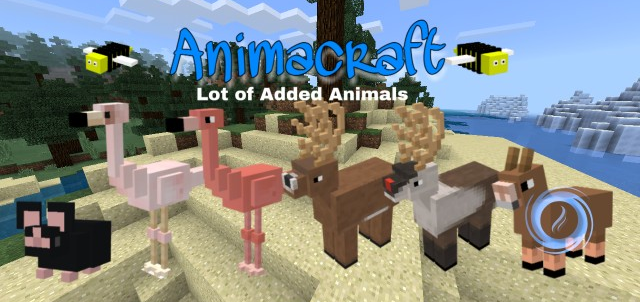 Features :
Deers
Spawn anywhere
Drop Leather, Bone & Meat upon death
Flamingo
Spawn on the beach, cold & frozen biome
Can be mated with salmon & cod fish
Drop feathers upon death
Goats
Become hostile when you attack them
Can be mated with Tallgrass and Wheat
Spawn on extreme hills & savanna
Drop raw mutton & leather upon Death
Bees
Small Flying Animal
Spawn at jungle biome
Worms
Snails
Can Lives in Water and On Ground
Gary is including into rare species or you can named with text Gary
Jellyfish
Spawn in Warm Ocean
Attack you with Slowness Effects
Mantaray
Spawn in ocean & warm ocean
Hamster
Cute animal ever
Spawns anywhere
Mice
Spawns in deserts and rivers
Red mouse spawns in the Nether
Can breed with cheeses
Colibri
Can be found in mesa biome
Flying around and singing
Foxes
Don't approach them, you will be attacked!
Arctic Fox
One of cold variant
Spawns at frozen biomes
Fennec Fox
One of desert variant
Spawns at desert
Red Fox
Spawns at jungle biomes
One of Upcoming tameable variant
Give them bone to tame
Becareful at night in the jungle, players!
– More Animals Coming Soon! –
Language Support:
English (United States)
Portugues
Français (France)
More Coming soon!
Note: Please Tweet Me if There's Error or Problems with the Addons
Update v1.6.3: 
Improved AI System
Support More Languages
Renamed Humming Bird into Colibri
Update v1.6.7!
Bug & Error Fixed
Try Name the snails with text Gary 
Try Name the worms with text Alaska Big Worm
Added Extensions Feature for Backward Compatibilty Packs
Finally support for version 1.10 beta!
Update v1.6.8!
- The update is to focus on support version 1.10 beta but can backward compatibility to v1.8 & v1.9
- Improved Error Fixed
- Extension Features was removed
Update v1.7.0!
[ Friendly and Danger Fox ]
Now you can tame only Red Fox at this moment
Now Red Fox will hunting at night ( becareful ) and you can't tame them when hunting
Installation
Installation
Download Resources .mcpack & Behaviors .mcpack
Apply the packs for a world
Enable "Experimental Gameplay" in the world settings
Create the world
Downloads
Supported Minecraft versions
1.10