Want to celebrate the new year or some other holiday? Include some cows and sheep in the celebration with this firework made out of both friendly and hostile mobs. Launch the mobs up into the air with the new items called Animalworks and watch them explode and create a beautiful sprinkle of dust in the sky.
It might sound cruel but it's a quite harmless treat and highly unrealistic but definitely fun.
Creator: MyNameIsAnti
How does it work?
Craft some Animalworks. To craft the new items which you will be given 16 pieces of you will need 1 stick, 1 redstone dust and 1 gunpowder.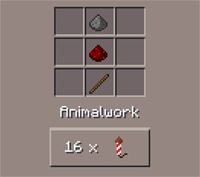 Hold the Animalwork in your hand and place it down on the ground where you want to launch the "animalworks".
When you do that a couple of mobs will spawn and be launched up into the air and then turned into what looks like fireworks made out of animals