From popular animes such as Naruto, One Piece, Dragon Ball, Demon Slayer: Kimetsu no Yaiba, My Hero Academia, Black Clover, HunterXHunter and more– now compiled into one giant Minecraft skin pack! With over 90 skins and more to come!
compiled by: r4isen1920
pack version: v3.0
January 2021 Update

Added 19 new skins from the anime "Haikyuu!", the Akatsuki from the "Naruto: Shippudden", two more characters from "Demon Slayer: Kimetsu no Yaiba" and more!
Please continue scrolling for a full list of skins included in this skin pack:
List of Skins
The following are the current list of 80 skins (excluded the skins from the latest update):
Izuku Midoriya
Kazuto Kirigaya (by @Zeith47)
Matsukaze Tenma
Monkey D. Luffy
Naruto Uzumaki
Natsu
Subaru Natsuki
Saitama
Son Goku
Taki Tachibana
Ichigo Kurosaki
Kaneki Ken
Astro Boy
Doraemon
Ash Ketchum
Boruto Uzumaki
Melodias
Shouya Ishida (by Eijirou)
Eren Yeager
Light Yagami
Gingka Hagane
Joseph Joestar (Jojo)
Joker (Persona)
Asta
Goblin Slayer
Pit
Sakata Gintoki
Satou Kazuma
Phoenix Wright
Sasuke Uchiha
Roronoa Zoro
Vegeta
Katsuki Bakkugo
Eugeo (by @Zeith47)
Eijiro Kirishima (by Eijirou)
Hiro [016]
Valt Aoi
Gogeta
Minato Namikaze
Iwatani Naofumi
Yusuke Urameshi
L Lawliet
Ryuk
Soma Yukihira (by Eijirou)
Levi Ackerman
Acnologia
Aizawa
InuYasha
Kakashi Hatake
Shoto Todoroki
Denki Kaminari
Kamina
Uchiha Madara
Lelouch
Gray Fullbuster
Soul Eater Evans
Jin Bubaigawara (Twice)
Vegito
Richter Belmont
Simon Belmont
Rantaro Amami
Jotaro Kujo
Dio Brando
Sanji
Bruno Bucciarati
Giorno Giovanna
Guido Mista
Itachi Uchiha
Saiki Kusuo
Killua Zoldyck
Death the Kid
Genos
Sora
Rito Yuki
Shido Itsuka
Tanjiro Kamado
Naruto (Six Paths) – (By Wolf40013)
Yami Sukehiro – (by Unspell)
Dante
Vergil
New Skins Update
The following are 19 new skins added for this month's update:
Zenitsu Agatsuma
Inosuke [Masked & Unmasked]
Edward Elric
Shoyo Hinata
Kageyama
Nishinoya
Sugawara
Kenma
Oikawa
Shigeo Kageyama
Lord Beerus
Mumen Rider (by Might-the-Hylian)
Escanor
Rock Lee
Pain/Nagato
Obito Akatsuki
Sasori
Orochimaru
Gon Freecs
"New Skin" Indicator
New skins have a green text on the respective character's name! Please check them out!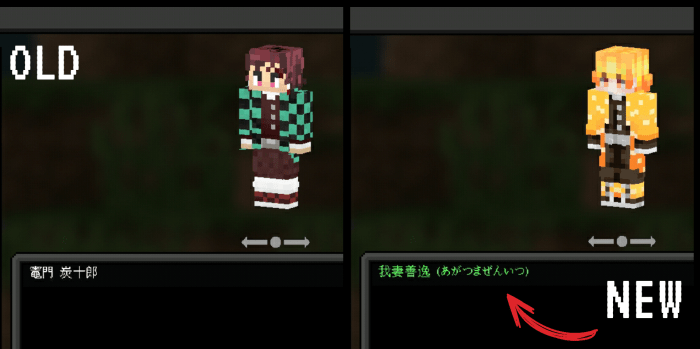 Skin Sources & Credits
Individual Creators
Zeith47 (@Wolf40013) – Twitter / PlanetMinecraft
Eijirou – PlanetMinecraft
Unspell – PlanetMinecraft
Might-the-Hylian – NovaSkins
(links to these individual creators will be added later)
NovaSkins
Visit NovaSkins here: novaskin.me. Thumbnail and skin renders are also provided by NovaSkins wallpaper maker created by these users:
I value your work!
Please if you have your skin here, contact me so I can credit you properly or if you want to request your skin removed from this pack please feel free to ask me anytime!
You can visit the contact form here: https://bit.ly/r4isen.
Female Anime Skin Pack
There's also a Female Anime Characters Skin Pack! You can find it by checking my profile.
Added 19 more skins, please check the description above for a full list.
FMAC Skin Pack will be updated next month on the same day.
Updated download links. (A A A A A A A A)
(As usual, please dont show this on the homepage. Thank you!)
(Note: Don't notify this update to everyone)
Skin pack has been re-released with updated description.
Updated download link.
Update Delays. There was an update delay because of the original skin creators. As much as possible, I will no longer be obtaining skins from the NovaSkin or any other skin providers that doesn't have a proper link about its true creator. The NovaSkin skins above may be changed to respect the true owners of the skins!
Weekly New Skins. As usual, six new skins have been added! Enjoy
In-app download. You can now easily install and import previous version of TMAC skin packs, ad-free and safe via the MCPEDL app! 
Weekly new skins. For a complete list, you can see it above.
Updated translations. Japanese translation of their names are provided by their respective wiki pages, etc.
Weekly new skins updated!
As always, you can manually download only your favorite skin(s) from the links above. Thanks to them, this skin pack is it is today!
Some fixes & tweaks
Weekly new skins updated!
Fixed Aizawa skin being backwards.
New translations. Please tell me if theres any better name translations for Japanese.
  version 2.0 changelog:
Weekly new skins updated! Added ten new skins;
Added more Japanese translations for names. May not be 100% accurate and is retrived from their respective wikipedia/fandom pages.
Tweaked Natsuki Subaru download link.
 Other Changes
Updated pack name for the website page.
 Known Issues
Aizawa's skin is reversed.
Thank you for your continued support! I'll be adding more stuff as much as possible.
  Additions 

6 new skins - for a full list please refer to the 'new skins' section above.
6 new Japanese translations. Not 100% accurate, may change every updates.
  Tweaks  
Changed pack name. Skins now contain some characters that are not reffered to as the 'main protagonist' of their respective anime.
Changed Ash skin name to Ash Ketchum.
  Fixes 
Fixed Taki Tachibana skin not showing up.
Some skin name fix. 
  Other 
Tweak file downloads for Xbox users.
Weekly new skins added for this update (v1..7):
Other Additions
New Japanese names for new and added skins.
Tweaks & Fixes:
Fixed Light Yagami's Japanese name.
Updated Featured image
Please delete the previous Skin Pack version saved in your device before importing this new one! Otherwise, it won't work.
Added four new Japanese name's translations 
Implemented four new anime skins.
You can read the whole text above for the complete list of new skins, and current skins!
Have a happy weekend!
6 new skins! For full list of added skins, refer to the .txt file including contributors along with the .mcpack in the archive!
Updated Japanese language for character names.
Heads Up!
 Notice: Now viewing an Ad will redirect you to the newest version of the skin pack, including new weekly skins for just 5-10 seconds of your spare time!
A simple spell but quite unbreakable.
Added five new skins from the comments! A complete skin list is also included in the text file inside the original archive of the pack!
Slightly changed pack name.
Comment below to request a skin! And we'll get it the right way.
You can also submit your skins here.
Kindly extract the .zip file, there containing the .mcpack file and the Read-Me.txt for optional instructions!
Added Shouya Ishida
Improved credits and description.
Installation
Importing
Simply open the downloaded .MCPACK file using Minecraft and it should automatically import! 
Updating
Updating to a newer version? Delete the old version of the skin pack first and then simply import the latest version!
Head over to your Minecraft folder and under the skin_packs folder delete the "TMAC" folder!
Need more help? Contact me here!
Downloads
Supported Minecraft versions
1.10
1.11
1.12
1.9