Magic in Minecraft Pocket Edition such as enchanting doesn't exist as of yet (might have changed when you are reading). The Arcane Rings Mod changes that and adds five magical rings. When wearing a ring it will give you a specific ability such as the ability to fly and turn invisible.
Creator: Kingbudderjr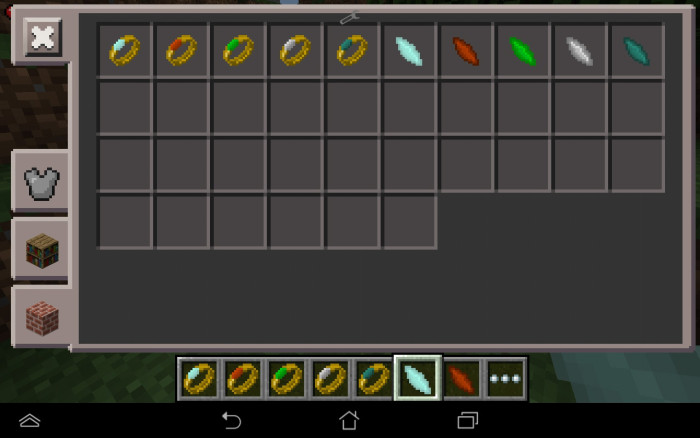 How to make a ring?
To craft any ring you will need seven gold ingots and one crystal. The gold can be obtained from mining gold ores and smelting them to gold ingots.
There are one unique crystal needed per ring. Obtaining the crystals is the hardest part. For every mob you kill there is one chance in hundred that you will get a crystal.
If you want to make things easy for you find a mob spawner (e.g. by using a mob spawner seed) and then set it up in a smart way to fast kill the mobs.
How to use a ring and what do they do?
Tap on the ground to use a ring.
Invisibility Ring – turns yourself invisible, use it in 3rd person mode to avoid possible crashes
Fire Ring – allows you to never take any fire damage
Life Ring – lets you become untouchable (almost), any hits with a damage over 10 will kill you
Air Ring – allows you to fly
Ender Ring – gives you the super powers of an enderman, tap anywhere to teleport there
Item IDs & Crafting Recipes
Invisibility Ring (500) – 1 invisibility crystal + 7 gold ingots
Fire Ring (501) – 1 fire crystal + 7 gold ingots
Life Ring (502) – 1 life crystal + 7 gold ingots
Air Ring (503) – 1 air crystal + 7 gold ingots
Ender Ring (504) – 1 ender crystal + 7 gold ingots
Invisibility Crystal (505)
Fire Crystal (506)
Life Crystal (507)
Air Crystal (508)
Ender Crystal (509)