IMPORTANT: This world can be updated using our additional packs once you have Asian Roofs 2. To add packs, visit our WEBSITE
Asian architecture and more than 30 custom animals such as elephants, tigers, crocodiles, etc., 30 profession villagers, 30 mini-games, Custom legends, Improved behaviors, tradings, fishing, hunting, etc. And you can get more packs on our website 🙂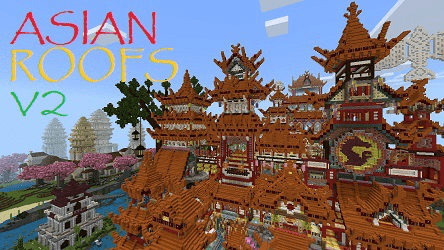 VERSION 2 HAS COME! 🙂
******************************************************************
"Asian Roofs 2" is a map created by MarmotteNapat and Soleil0Lunaire, a couple of builders.
This map is in fact a 512×768 blocks world full of custom animals with improved behaviors. For example, hostile animals such as the tigers will attack if hungry or provoked. The animals will also hunt and avoid respective animals. Some animals even have gender distinction and the way to breed is improved for each. In fact, some lay eggs, while others become pregnant, etc
And you have to know that there are at least 30 professions in Asian Roofs so you should find everything you need in villages and camps.
For the architecture, you guess it, it is inspired by Asia, from the chinese to the indo-arabic culture. You should even recognize some famous buildings that are similar to real ones, such as Taj Mahal and Forbidden City. You will also be thrown in a world that has many regions with different environments, from the snowy mounts to the colorful sea and tropical island before landing in the sandy beaches.
If this is not enough, you have at least 30 mini-games all regrouped in categories. There are even 24 droppers and a casino. You will also find attractions such as an Aqua Center to swim with injured animals, a giant museum with dinosaurs, 120 banner arts, etc. and a Dragoncoaster, that is the mix between a giant dragon and a rollercoaster.
Finally, there are 3 quests that you can do and that will lead you to some prizes. And you may be interested in the Library that contains legends created by us that all have a little something true in the map.
And we also have a WEBSITE where you will have access to many more packs that you can add if you want (ex: sushis, special elephant decorations, lanterns, additional animals, etc.)
Now, we know this was a huge text and maybe you did not read it all but we hope you will enjoy. 🙂
Additional packs are available on our WEBSITE and you can check there what changed from v1 to v2 :)
Major update :) Check out our video to see and visit our website to add more packs
VERSION 2 is coming in June 2020!
OLD ANIMALS
Every animal from version 1 will now be fully custom mobs.
NEW ANIMALS
Many new animals are coming such as rhino, red panda, peacock, orangutan, etc.
SUPER BEHAVIORS, ANIMATIONS AND SHAPES
The mobs have routines for sleeping and eating, etc. The animations are very soft and shapes are super more realistic than the version 1.
NEW BLOCKS
Custom blocks such as bamboo wall, lanterns, symbols and more are coming so you can personalize the map!
NEW ITEMS
Custom items are coming such as food and special artifacts
GENERAL SETTINGS
No more need to play in difficulty easy and blablabla, you will be able to play the way you want
SPECIAL COMMANDS
-Game rule "Natural Regeneration" will let you turn on/off the hunting behaviors of all animals.
-Functions will be available for the owner so you can teleport easily to many places.
-Informations about every animals will be available directly in-game by the usage of functions!
STAY TUNED :)
Asian Roofs Team
Installation
Visit our WEBSITE to add many other packs in this world :)
We also present some of our stuff on our YouTube Channel
Downloads
Supported Minecraft versions
1.9