This Skin Pack contains a lot of spoilers. If you don't want to get spoiled, go watch the anime.
This skin pack has the main characters from Attack On Titan/Shingeki No Kyojin.
If you've noticed that some characters are missing, write their name in the comments and I'll add them in the next update.
TWITTER: https://twitter.com/SimonIT71111471
My USERNAME on XBOX is @SimonITA23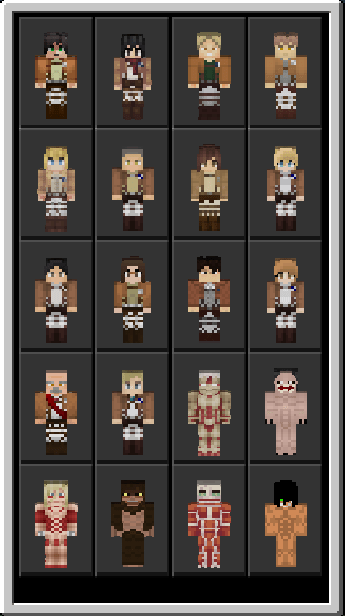 Changed description (added new photo, video tutorial and an official linkvertise q&a)
Added new link shortener: Linkvertise, much safer than the others shortener I used.
Changement:
Added new links
ouo.io instead of shorte.st                                           
Link Changement and bug fix!
Write in the comment if there are other bugs!
Finally Published after some issues
Some Bug Fix
Some Skin Changement
Installation
(LINKVERTISE Q&A BEFORE DOWNLOADING)
Yes,it is.
It's also one of the safest shorteners since there aren't annoying pop ads with a lot of viruses, +18 ads and other ads that are, sometimes, impossible to close.
2.Are the notifications really annoying? Do I have to keep them?
 The notifications appear usually two times a day, but you can also deactivate them with no problem
3.Do I really have to read an article to get to the download?
   No, you have only to wait 12 seconds and close it.
4. Your link downloaded me a suspicious .exe file, what is it?
 It's only an installer that asks you if you want to download additional offers. If you decline the offer you will not install anything on your pc. You have to wait for a few seconds, then you will be redirected to the actual MediaFire page without viruses. I've done this so many times on my pc before publishing this update and no viruses were detected.
Currently,I can't do much, because I don't own an Xbox. But I heard in the comments of my last video tutorial that Linkvertise is actually fixing the problems found by you. If you have another problem on Xbox you can go to my video tutorial in the comments and reply to Linkvertise, they will fix the problem in less than two days!
In short, Linkvertise is not a virus-filled shortener, you just need to have a little patience to complete all the steps and you can download Casual Skin Pack!
Downloads
Supported Minecraft versions
1.12
1.13
1.14
1.15 (beta)
RTX Beta