Bedrock 2.0 add-on support update (1.10.0+)
This add-on adds 18 new entities into the game including 2 new boss battles to fight and new villagers armed and ready for battle against the pillagers. The add-on also includes new ocean life and variants of the skeleton and zombie in their vice versa state in biomes. Ores and stone types were retextured to their honest drops, also to give the stone a smoother feel, it also includes the netherrack.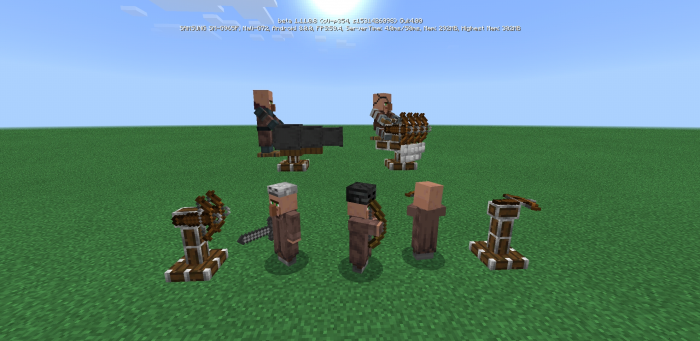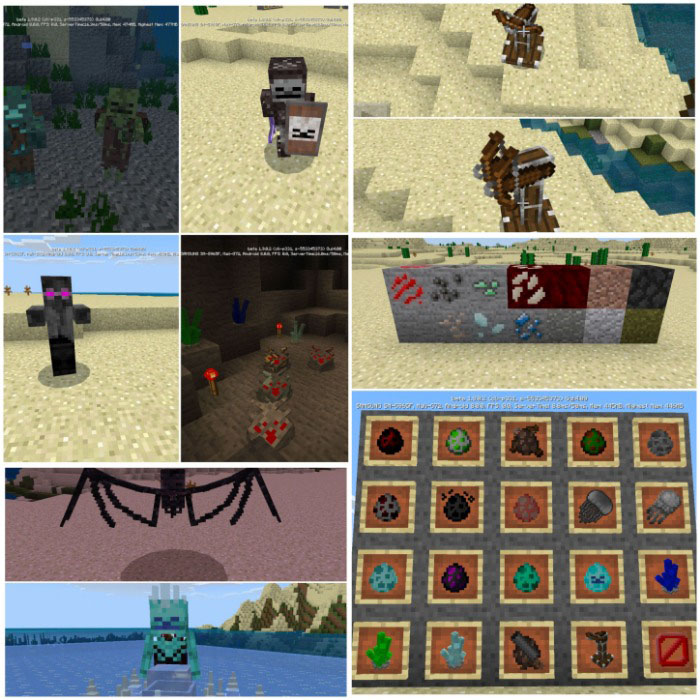 Entities:
Inanimate entities:
Cave crystals
Normally spawning near bedrock, there are 3 variants. Diamond, emerald, and lapis lazuli.
They drops are what variant they are.
Turret
These are basic shooters that can be used to protect villagers, they'll attack anything that's a monster. You can use a bow to upgrade them, from 20 hp to 50 hp.
New underwater creatures:
Jelly fish
Spawning between oceans and rivers, they'll sting you if you get too close which gives you poison.
Lion's mane jellyfish
Spawns in the same biomes such as the jelly fish but definitely uncommon. Their sting gives you more poison lasts longer than a normal jellyfish.
Mahi mahi
Also known as a dolphin fish, it adds diversity to the ocean and drops the same loot as normal fish.
Lion fish
This a new type of fish which can attack the player with poison if they get too close.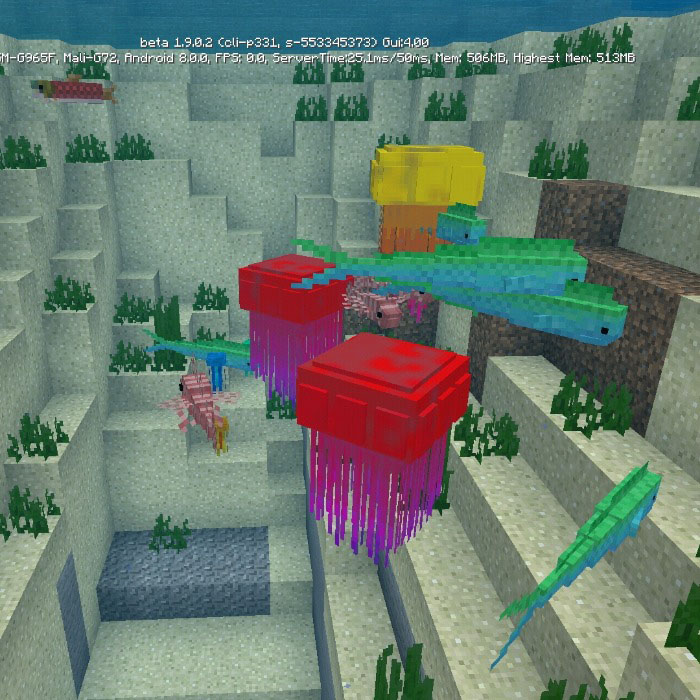 Boss mobs:
Wraithen boss
This is a formidable enemy against the wither because it's very hard to beat. It can switch from melee mode to 3 ranged states and cools down before going back to melee.
Chill rave boss
It can appear very rarely in the frozen ocean biome, it uses spikes to protect itself and can switch to ranged mode from time to time. It throws ice blocks to slow you down and it can kill an unprepared player in 2 hits.
Hostile mobs:
Stone eater
Inspired from the anime series "Goblin Slayer", These will give you mining fatigue and can spawn underground. They have all stone variants except netherrack, and all ore variants as well. They drops depend on their variant but all of them drop only one.
Ender carcass
This variant of the zombie can teleport like an enderman, throws snowballs, and spawns in the end.
Frost eater
This variant of the zombie spawns in frozen oceans. Similar to the Stray, it can give you slowness but it lasts for 45 seconds.
Ryft
This hostile entity can disappear in a matter of seconds, as it gives you blindness, they can spawn in dark places around the forest. Their eyes glow purple in the dark.
Skeleton knight
This is them melee mode of the skeleton, it holds a shield and an iron sword and it has more health.
Sunken
An underwater variant of the skeleton, a friend for the Drowned.
New villagers:
Warrior villager
Protects the village against monsters, the complete opposite of the Vindicator.
Turreteer
This villager uses a fully loaded turret, they behave they same way as turrets but shoots far more arrows than they do, you can't upgrade them either.
Cannon-man
This villager uses a custom projectile to shoot monsters and explodes on impact.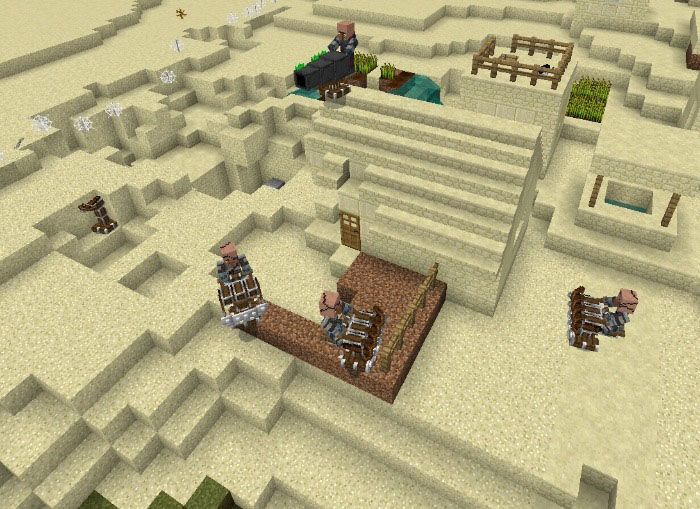 Trailer
New additions:
Archer villager - combat equivalent to the skeleton. To get the archer villager, use a bow when interacting with a "Fletcher" villager.
Sniper villager - can shoot farther than the archer villager. To get the sniper villager, use a crossbow when interacting with an "Archer" villager.
Changes:
Warrior villager - no longer has a spawn egg. To get the warrior villager, use a stone sword when interacting with a "Weapons smith" villager.
Turret villager -  no longer has a spawn egg. To get the turret villager, use a crossbow  when interacting with a "Sniper" villager.
Cannon villager - no longer has a spawn egg. To get the cannon villager, use an iron block when interacting with a "Warrior" villager.
Fixes:
Spawn rules among mobs that won't spawn.
Spawn rate of the "Ryft" mob.
Animations regarding the new added fish types.
Installation
This add-on is updated to the latest beta.
If you want to review/make a video about this content, at least credit me in the video/description
Don't use your own link, use the proper link on MCPEDL
Downloads
Supported Minecraft versions
1.10
1.11