This will be one of the better penguin addons you'll see yet! Penguins and king penguins complete with animations, sounds (dolphin sounds actually), scarfs and crowns! Tame a penguin now and have your own pet that will protect you!
This is actually an improved and updated version of the previous battle penguins addon, so try this one instead.
Penguins
These penguins are neutral mobs that throw snowballs at enemies. You can find them in frozen ocean biomes, in groups of 2 to 5.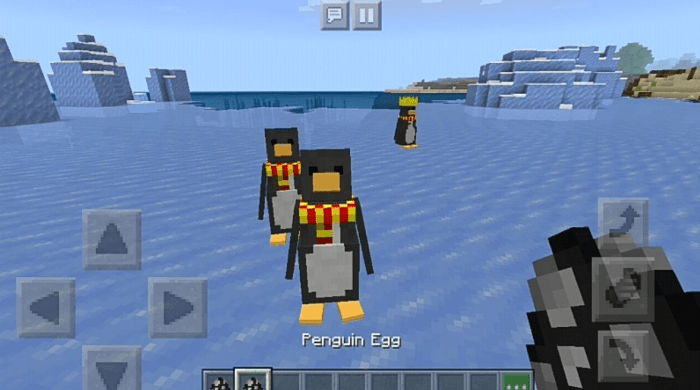 Wild penguins only attack fish, but will attack anything that hits them first. Hitting a wild penguin will anger all penguins around so watch out.
You can also now tame these penguins with cod. Hold a cod and interact with a penguin a few times until it's tamed. Tamed penguins will now follow you around and attack any monster, including those that you attack. They can also be bred with other penguins, and can be healed when feeding them cod or salmon.
Health: 15
Attack: 3
Drops: snowballs
King Linus
King Linus is the rarer and stronger variant of the normal penguin, you'll notice it because of its crown.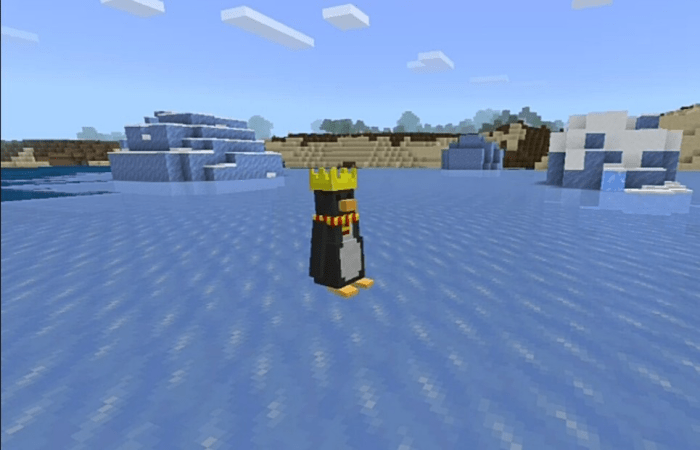 King Linus usually spawns alone, but can be 100% tamed all the time. It can also be bred and healed just like the normal penguin.
Health: 40
Attack: 5
Drops: snowballs, gold ingot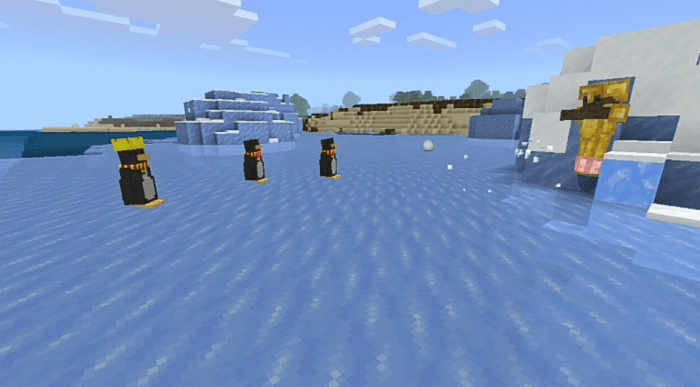 Notes:
You can also spawn them with the /summon command or by finding their spawn eggs in the creative inventory
Wild penguins attack fish, tamed penguins attack monsters and are no longer neutral
Snowballs now deal damage
Hitting one penguin will anger all penguins
EXPERIMENTAL GAMEPLAY
In case things don't work, turn on experimental gameplay.
Installation
1. Click the link. Be sure to read and follow ALL instructions below so you don't mess up!
2. Complete the captcha
3. Click the "Discover interesting articles" button
4. YOU DO NOT NEED TO DOWNLOAD OR READ AN ARTICLE, just click the X at the top right
5. It will make you wait for a few seconds, once done click the X again
6. The "Continue" button below should be active, click that
7. Wait for a few seconds then click the "Direct Access to..." button below the mediafire logo, this should bring you to mediafire
8. After downloading the file, just tap it and Minecraft should open and automatically install both packs
9. If that doesn't work, you can rename all .mcaddon files to .zip files then manually put the packs to the right folders (resource to resource_packs, behavior to behavior_packs)
And you're done! I've only tested this on android, but you can try on other versions. Otherwise comment below and I'll check for bugs. You can use this addon any way you want, even for your content, just be sure to credit me.
Again, there is no download required. Read all the instructions above before doing anything.