Welcome to the most challenging Skyblock map you'll experience. You start off on an island with only a chest, grass block and a bedrock block. However, in this map an addon called "Better Skyblock" made by DanRobzProbz is used. With this addon it is possible to craft anything from grass, to even spawn eggs to help you progress through this challenging experience. There are also crates (machines) such as sieves, etc to help you out!
And yes, this map is perfectly multiplayer friendly.
Each player starts off with x1 sapling, x4 signs and x2 cooked beef to start their Better Skyblock world! Note: The signs can be crafted into bone meal.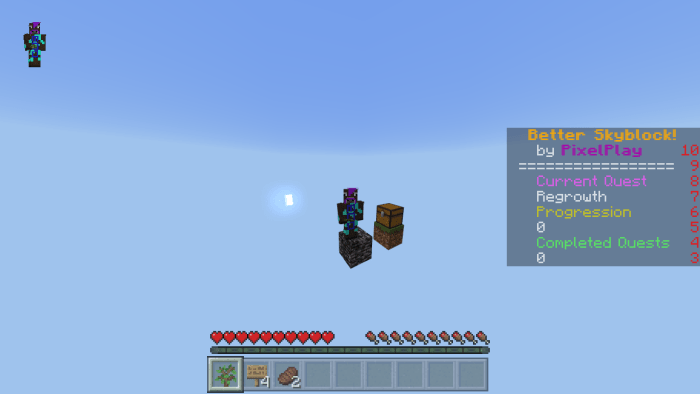 There are x20 Quests and x10 Bonus Quests which you can complete during your adventure in return with amazing rewards!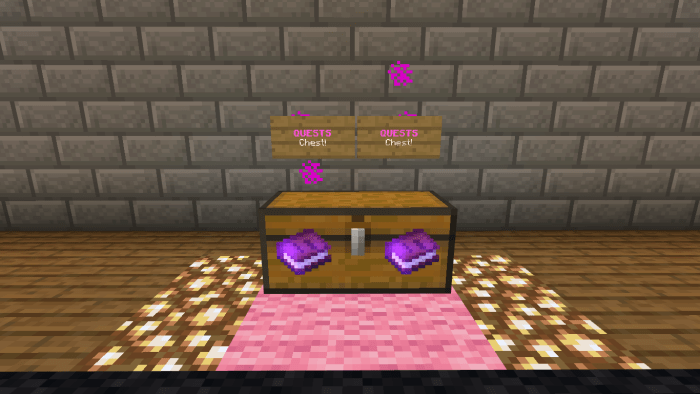 There are multiple Tutorial Rooms for you to better understand how the addon works, e.g. how the crates/machines work!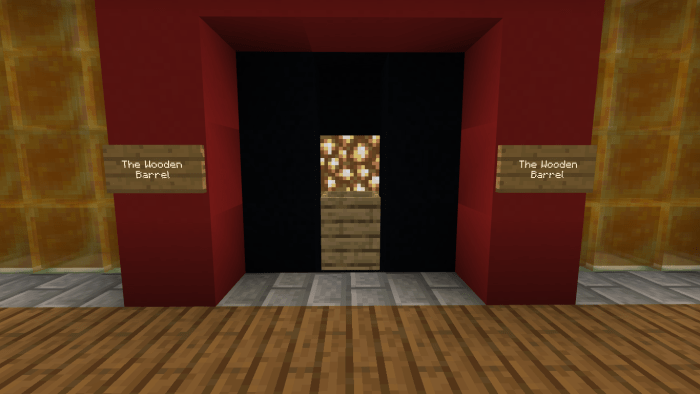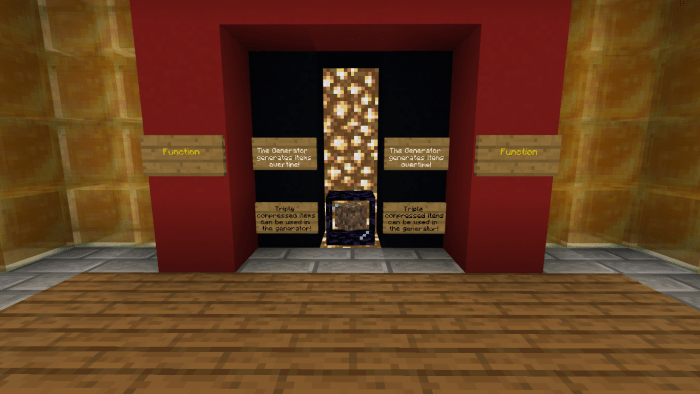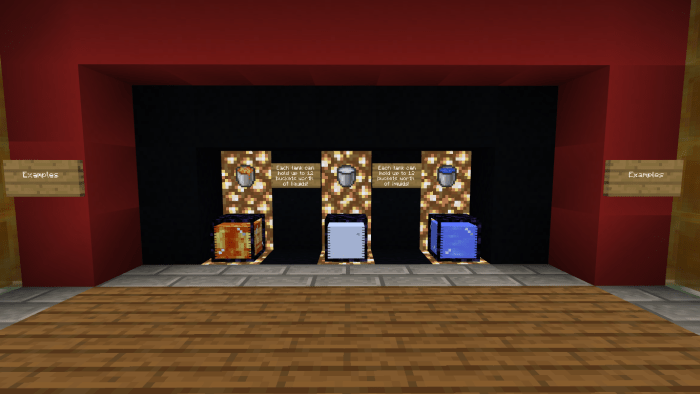 There are now shops and multiple Islands (great for multiplayer) in the v1.3 Update!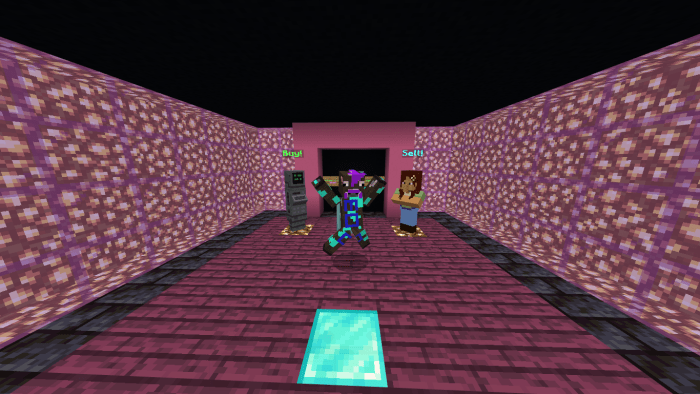 Are you ready to start your Better Skyblock Adventure?
Please help support the PixelPlay Community for more free maps in the future!
Map Creator: jesser101 (Owner of PixelPlay MAPS)
Huge thanks to DanRobzProbz for making this Addon!
DRP's Youtube
DRP's Discord
UPDATED v1.3 Showcase Video:


Original v1.1 Showcase Video:
Additional Notes:
If you experience issues with downloading – feel free to join the discord to receive a raw file of the map!
Quests can ONLY be completed by playing with the Language settings set to English!
Look out for future updates which will improve this map!
v1.3 Update:
Added a "Buy" and "Sell" Shop
Updated "Teleporter" Chest GUI
Added multiple islands (x5)
Fixed "Boom" Griefing at Spawn
Updated Better Skyblock addon for 1.16+ (huge thanks to PavelDobCZ23 #5726)
Added special Bank Note items
Changed Quest Rewards, e.g. Added at least x1 Bank Note to each quest!
- Added Support for 1.16+, thanks to PavelDobCZ23 #5726 on discord.
v1.2 Update
Addon Bug Fixes (including compressed mycelium and obsidian to obsidian shards in the stonecutter bugs).
Quest Room updated with gamerules (easily turn on keep inventory, change difficulty, enable pvp, etc).
x5 New Bonus Quests added (there are now x30 total quests to complete!
Quest Rewards have been buffed
x3 Special Custom Heads that you can collect for special abilities
XP Head: Summons XP when thrown
BOOM!: Summons TNT when thrown
Devastator: Summons Wither Skeletons when thrown

Changes in v1.1 Update
You now get x16 logs instead of x2 grass as a reward from Quest #3 to make Quest #4 more challenging.
There are now droppers in the Quest Room for mobile players to more easily complete quests. 
Fireworks spawn after the tutorial. 
Quest #4 and Quest #8 got their hints modified. 

Spawnpoint is now always set to the hub for players who completed the tutorial.
Stonecutter bug fixed; it can now turn gravel into sand.
Installation
1. Down the MC.world file using the mediafire link .
2. Open the downloaded file for the world to automatically install into the game!
Downloads
Supported Minecraft versions
1.16