When a Piglin is zombified, it changes clothes, this is partly strange, this small plugin makes it keep its outfit, although it is a little damaged but it looks good.
We all know that the zombie pigman was replaced by the zombie version of the Piglin. He keeps his outfit but this is somewhat "incoherent" so to speak. When the Piglin is zombified he changes his outfit but with this texture you can make him keep it, although it is slightly damaged.
Vanilla // Better Zombified Piglin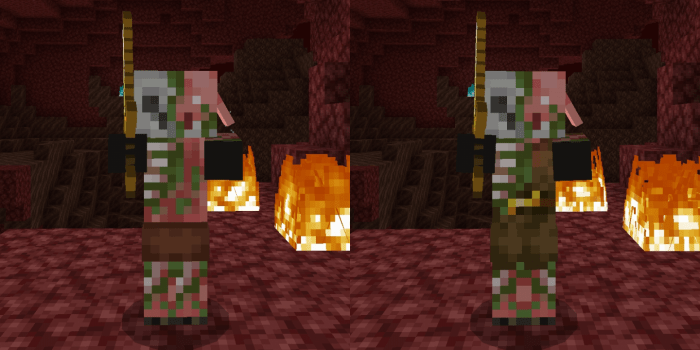 Better Zombified Piglin in Multipixel! (New)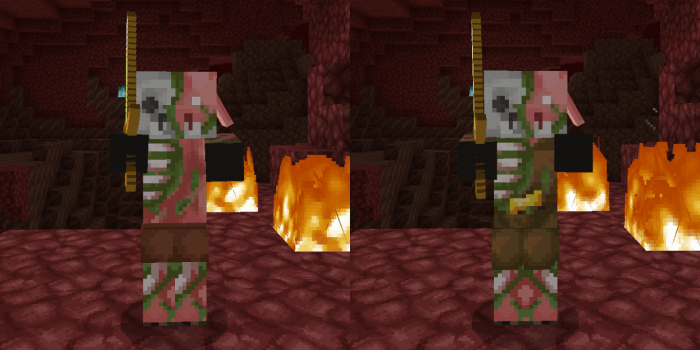 He also has an improvement on his left leg, it can be distinguished by viewing the images.
Thanks to @ZouChenyunfei (Creator of @MultiPixelHD) for giving me permission to adapt this plugin to their Multipixel texture.
To adjust to the Multipixel texture you must click on the configuration button of the package and select the resolution.

IMPORTANT
The original link only contains a shortener, adding your own shorteners and captchas is prohibited.
When entering the download you should only skip all the advertising, avoid it and not allow notifications of this, for your safety.
If you are going to make a video about this add-on, you must leave the link to this page and not to the direct download, because when there is an update the previous link will be deactivated.
And please give me credits.
My networks
YouTube // Facebook // Twitter // Instagram
Normally I upload progress of my plugins on my Facebook page and on my Twitter, if you have something to tell me or report to me about my plugins you can tell me through my networks.
- Texture adapted to Multipixel
- Portuguese language added
- New package icon
- The texture is now adjusted to the new Piglin model.
Installation
To install the ZIP file you just have to go to your Downloads folder, unzip the file and move the texture folder to the path "games/com.mojang /resource_packs", so that you will have the add-on available in the game.
To install the MCPACK file you must go to your Downloads folder, touch the file and in the options to Open you must choose Minecraft, this will open the game and automatically import the texture.
It is necessary that every time you update the add-on you delete the previous folder so that there is no problem with Minecraft detecting duplicate packages.
You only need to download one file, they both work the same, it's just up to you how you want to install it.
Downloads
Supported Minecraft versions
1.16
Resolution
128x
64x