Binoculars' Zoom Add-on introduces two new custom in-game items: Lens, and the Binoculars itself! The Binocular's allows you to see and view quite distant and/or farther places without moving your current location.
created by: r4isen1920
pack version: v1.4
Crafting Recipes
A. Lens
Lens are made from materials, such as glass, which allows you to see farther places easily by means of refraction.
To craft a piece of lens, you will need: (2) Glass, and (2) Glass Panes. Note that you will need Glass, and not Stained Glass!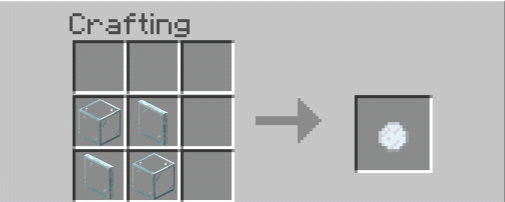 After crafting the Lens, we can now move on into crafting the Binoculars itself!
B. Binoculars
Binoculars allows us to see farther and/or such distant places without moving too much.
To craft a pair of Binoculars, you will need atleast (2) Lens, and (6) Iron Ingots as seen below: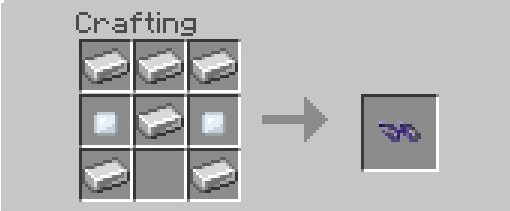 Binoculars' Features
A. Usage Information
Simply hold the Binoculars in your main hand to use it!
B. Zoom Levels
There are three respective zoom levels. Each can be suited for your needs – the higher the level, the more you can see, but the slower you'll get!
Changing Zoom Levels: To change the zoom level, you can go to your Behavior Pack's tab and change the slider bar from there: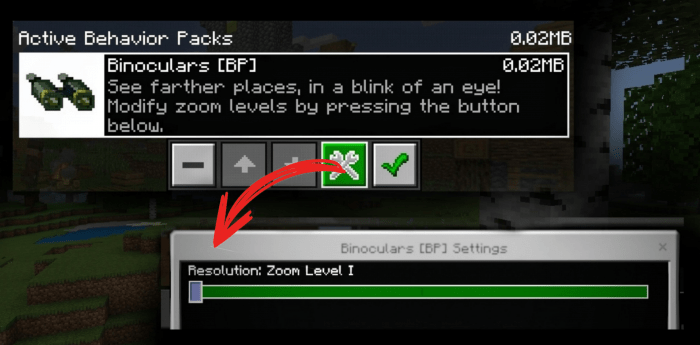 Three-level differences: The higher the level, the more far places you can see – but the slower you can be!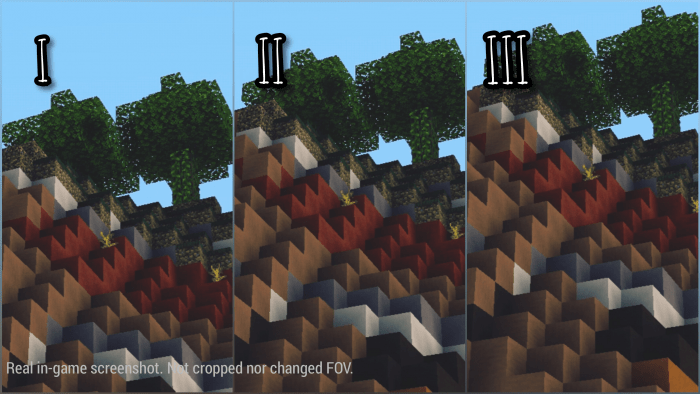 Zoom level settings is saved for each world. It is not each player can change individually or vary in the same world.
C. Binocular's Eyes
'Binoculars Eyes' is a term used for referencing the eye piece which allows you to see the shape of the Binocular's around your eyes.

Something below could look like that if used in-game: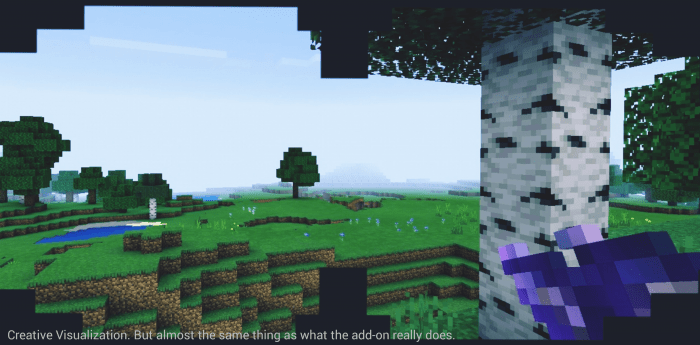 D. Nearby Mob's Indicator
You can't be sure if someone will attack you from the back, while you're watching the Binoculars in Survival mode.

Blue Indicator

: Shows the current Zoom Level.
Yellow Indicator: Indicates nearby entities 2 blocks from you and within 12 blocks of range. (2-12 blocks)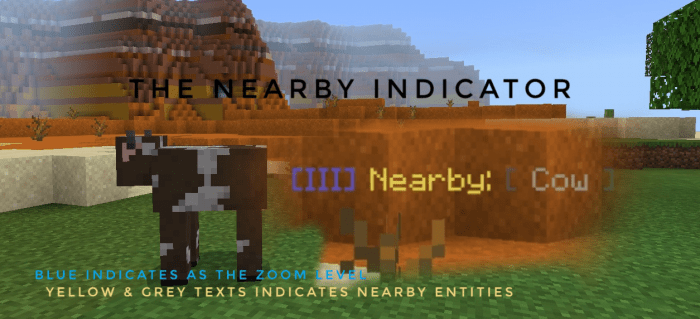 Video Demonstration
Looking for a new village with the Binoculars Addon!
Performance improvements. Fixed an issue where zooming in could decrease the game's framerate.
Added "Zoom Levels". Allows you to change the Binocular's zoom level.
Added "Nearby Entities Indicator". Indicator for nearby entities within range while using the Binoculars.
Other display fixes.
Description change. Lens crafting recipe is tweaked, as well as its name, and its textures. It was an 'Oopsie!'
Downloads
Supported Minecraft versions
1.12
1.13