BrewingPE is a mod which lets you brew potions through the use of alchemy. Combine items such as spider eyes and ghast tears with nether wart to make powerful potions. The potions can then be used to experience boosts and special effects.
The fact is that brewing is originally a feature for the PC version of Minecraft which yet hasn't made its way into Minecraft PE, until now.
Creator: MyNameIsAnti
Brewing
To get started with the brewing process you should begin by crafting or getting the following items:
Brewing Stand (502) 3 cobblestones + 1 gold ingot
Glass Bottle (374) – 3 glass blocks
Glistering Melon (408) – 8 gold nuggets + 1 melon slice
Golden Carrot (407) – 8 gold nuggets + 1 carrot
Nether Wart (372) – zombie pigmen drop them
Melon (360)
Place down the Brewing Stand on the ground.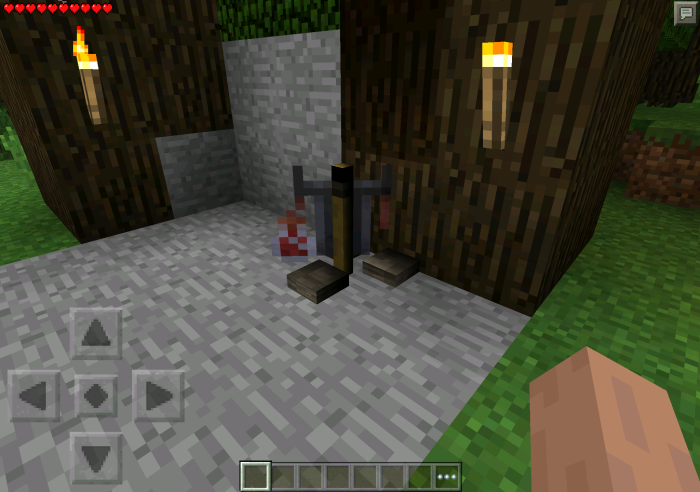 Tap on the Brewing Stand to open the brewing user interface.
In our example we will brew a Potion of Healing with the use of Nether Wart and a melon slice.
On the left-hand side of the brewing window you can see the available items to use. Tap on the Water Bottles to add them to the brewing and then tap on a Nether Wart to add it as well (zombie pigmen drop Nether Wart).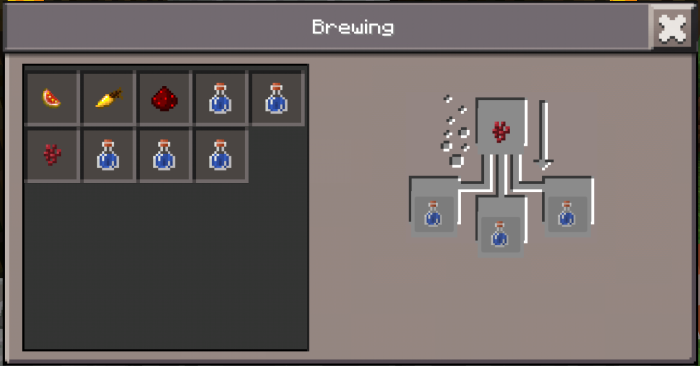 After a 2-4 seconds the Nether Wart will disappear and your bottles will have turned into Awkward Potions. They are still not Potions of Healing so lets continue by tapping on a melon slice to add it to the brewing.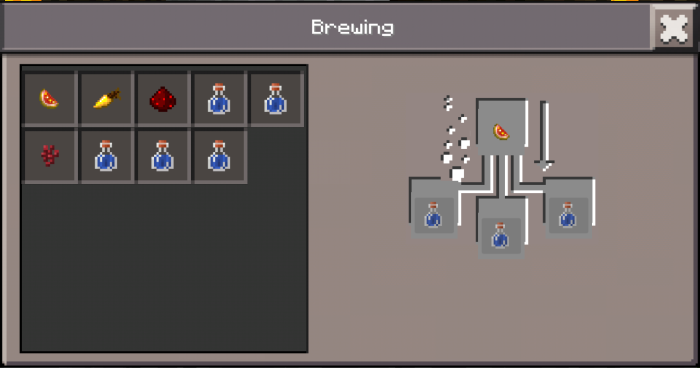 After another 2-4 seconds your bottles should have shifted into a red color. Tap on them to retrieve the potions to your inventory.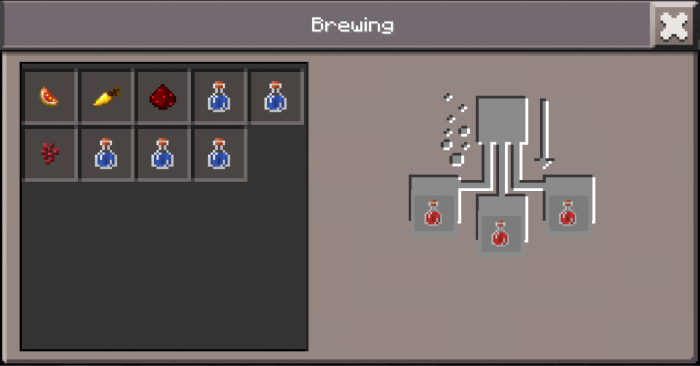 The Potion of Healing can then be used by tapping on the ground to refill your health.
Brewing Items & Recipes
Potion of Healing (379) – 1 Nether Wart, then 1 Melon Slice
Potion of Night Vision (376) – 1 Nether Wart, then 1 Golden Carrot
Potion of Fire Resistance (377) – 1 Nether Wart, then 1 Magma Cream
Potion of Swiftness (380) – 1 Nether Wart, then 1 Sugar
Potion of Regeneration (381) – 1 Nether Wart, then 1 Ghast Tear
Potion of Strength (382) – 1 Nether Wart, then 1 Blaze Powder
Awkward Potion (375) – 1 Nether Wart
Other Block/Item IDs & Crafting Recipes
Nether Wart (372) – zombie pigmen drop them
Water Bottle (373) – tap on some water with a glass bottle to fill it
Glass Bottle (374) – 3 glass blocks
Spider Eye (326) – spiders drop them
Golden Carrot (407) – 1 carrot + 8 golden nuggets
Glistering Melon (408) – 1 melon slice + 8 golden nuggets
Golden Nugget (371) – 1 golden ingot
Magma Cream (409) – zombie pigmen drop them
Ghast Tear (410) – zombie pigmen drop them
Blaze Powder (411) – zombie pigmen drop them
Brewing Stand (502) – 3 cobblestones + 1 gold ingot
Spawn Ghast (412) – get it with Too Many Items
Spawn Blaze (413) – get it with Too Many Items
Important Install Info
The mod only works with the new BlockLauncher BETA. You can get it here: http://t.co/pIgLOjmXPG
Download (Dropbox)
Download (File-Upload)