Call of Duty Zombies is a survival minigame with several different levels where you have to fight zombies. Rounds (also known as zombie waves) are all automated by redstone which enables a seamless gameplay experience. The map uses clever redstone mechanisms to trigger certain occurences, such as spawning of zombies, accessing new levels and retrieving potions.
Creator: Fizzman797, Twitter Account
How to play?
Begin by reading all the rules and then continue by entering the starting room of the map. Here you are allowed to collect 2 swords (max) and some arrows.
Rounds
On one side of the room there is a button and a chest. These objects are used for controlling the zombie rounds.
Press the button to start a new round. Open the chest to find out which round you are on. (The amount of papers equals the round number.)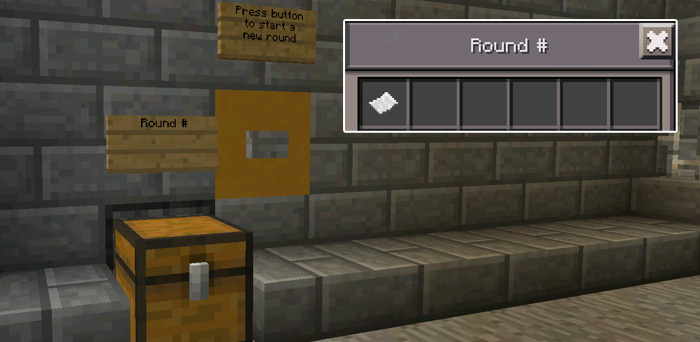 Always complete the current round before starting another. Otherwise there is a likely chance you will experience a vicious massacre where you are the victim.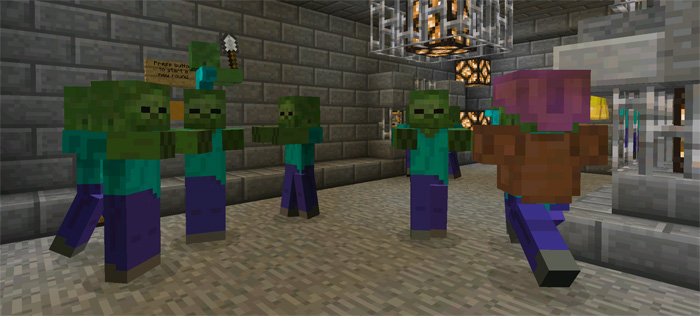 Man Up (Potions)
On the other side of the room there is a Man Up machine. Press the button to retrieve a potion. It's limited to 5 uses.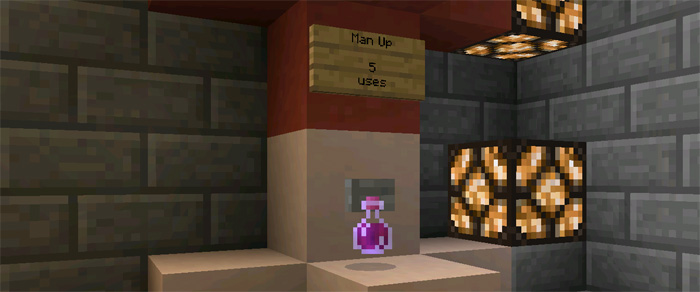 Accessing New Levels (Cafeteria & Labs)
To move on to the next level you will have to collect 50 rotten flesh. Drop them one by one into the Clear Debris area to open the entrance. (I have no idea how to drop items one by one so if you are like me just obtain 50 rotten flesh and the destory the sand blocks.)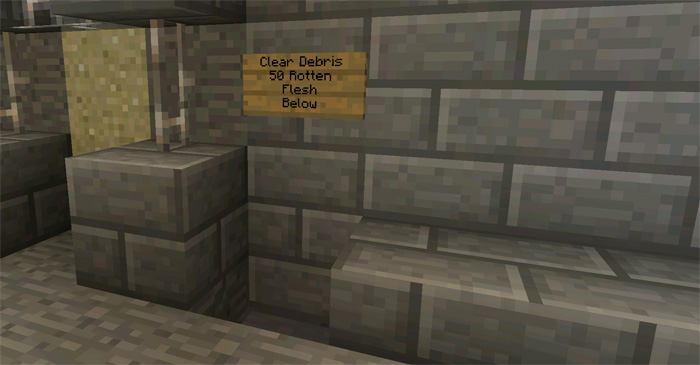 It's up to you to decide which level you want to start with. Complete the Cafeteria and Labs before moving on to the levels behind the sand blocks.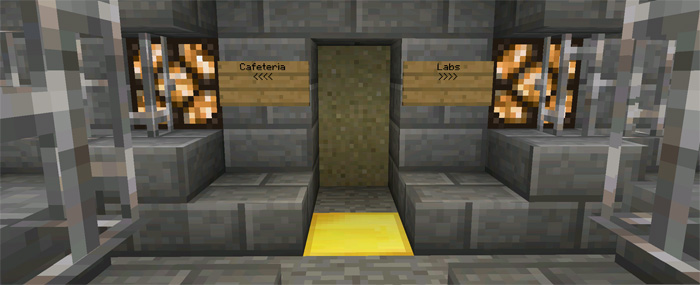 Cafeteria & Labs
In the cafeteria (as well as in other places around the map) you will find some hidden chests which contain diamonds. There will also be a Boost Brew Up (potions) machine. Kill zombies to obtain 75 rotten flesh to gain access to the kitchen where you can find lots of food and also a hidden room.

You probably have an idea by now how this map works as the labs work and look similar to the previous levels.
Rules
Turn on difficulty (easy (-|–), medium (–|-) or hard (—|))
Don't break blocks
Only take two swords in the starting room
Collect diamonds. They are used for obtaining weapons.
Video Preview