Capricorn PE Shaders is a package of shaders for the game Minecraft Bedrock Edition. This shaders package has lots of features that will make Minecraf Bedrock Edition better but does not make lag.Shaders can be used on Low- end because these shaders are very simple but very realistic which will make the game Minecraft Bedrock Edition become much more realistic and beautiful.
Capricorn PE Shaders 2.4 v2.4.0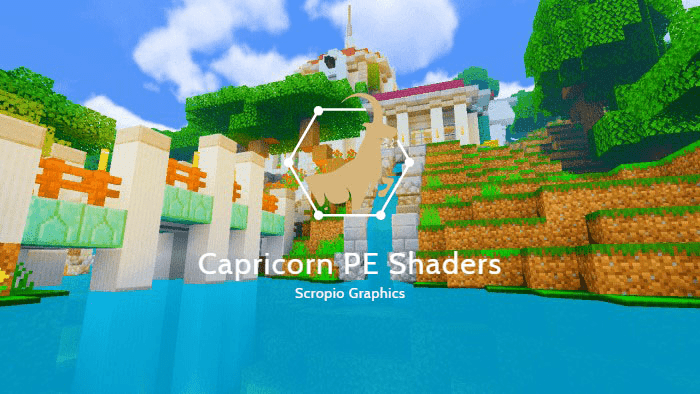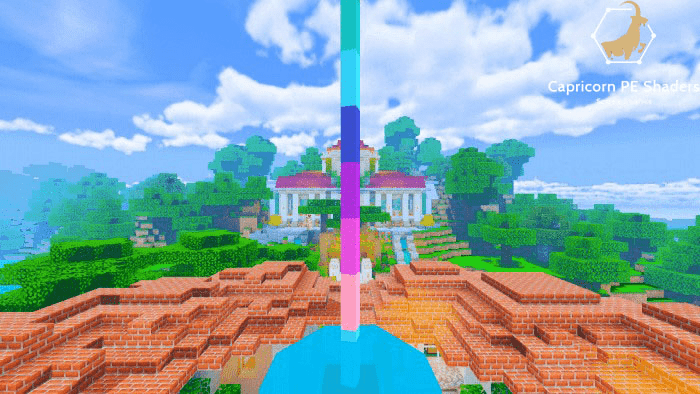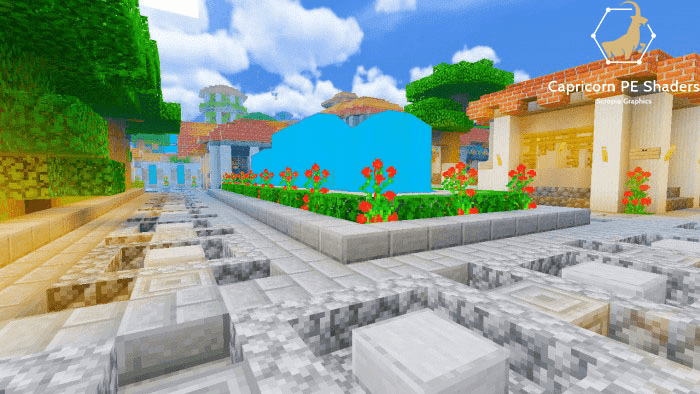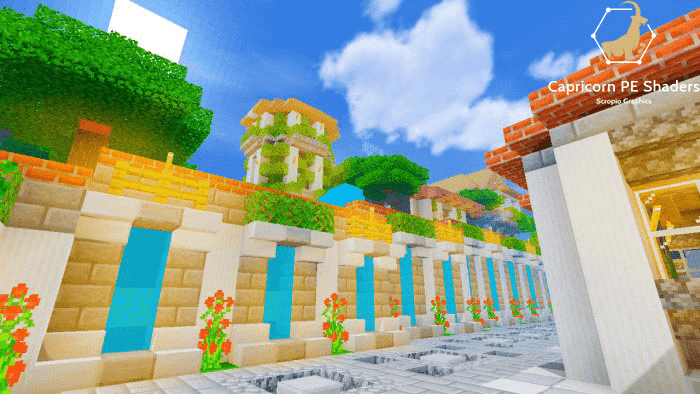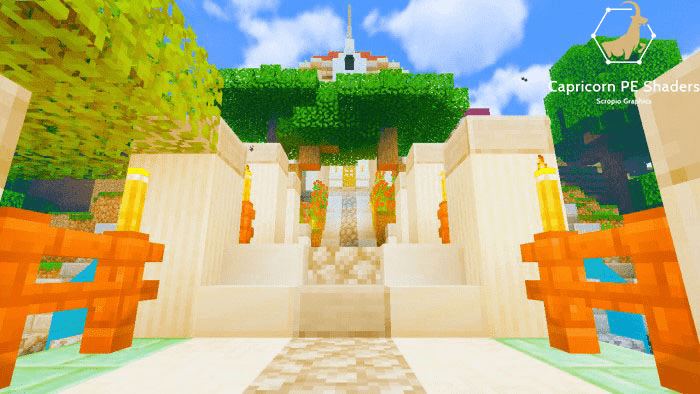 Features from this shaders package.
Capricorn PE Shaders 2.4 v2.4.0 :
Staining the light of a torch.
Realistic shadow.
Wavy and moving water.
Waving plants.
Realistic sunlight.
Day and night light.
The sky is twisted.
Tonemap coloring.
Fog
Nether code.
Block side shadows.
Dynamic Lights.
Rain Effect
Saturation
Now it supports Windows 10 devices and fixes some bugs.
MCPEDL shaders Capricorn PE Shaders are not on your site
Erase all the code that doesn't belong to me and now my shaders only use my code.
Now my shaders don't use other people's code and only use my own code.
Capricorn PE Shaders 2.3 v2.3.0
Increase saturation
The coloring of the world has been saturated
End Portal has been saturated
End sky has been saturated
The moon is saturated
the sun is saturated
the weather is saturated
add proof of permission on the page and there are no changes in the shader.
Add credit on the page that I forgot to put before.
just add videos to skip advertisements and don't change anything in shaders.
Fixed some errors on web pages and did not update the shaders package.
Capricorn PE Shaders 2.0 v2.0.0 Official :
New light color.
Finer shadow.
Smoother waving leaves.
Water waves and movements in water are smoother.
Better color saturation.
New water color.
A better Tone Map.
Nether is more realistic.
fog distance is closer.
Smoother side block shadow.
Dynamic light
Rain Effect
Now the shaders feature can be turned off or on.
Bug fixes.
Fixed several things that caused crashes
Capricorn PE Shaders 2.0 v1.1.0/Official
Add a new material file
New light color.
Animation of new waving plants.
Wave and move new water.
Bug fixes.
ERROR repairs.
Add color to water.
Fixed several things that caused crashes
Add Tonemap.
add fog.
Add the Nether code.
Add clouds.
Add end portal code.
New Lava.
Some files related to End Portal are deleted.
New cloud file.
Title removed.
Panorama deleted.
Reduce the size of shaders from 7MB to 3MB.
Everything related to policy is combined into one, namely Read me.
These shaders are their own work and work and do not modify other shaders.
This Shaders is compatible with Android but for iOS only a few.
Installation
Capricorn PE Shaders
For:Minecraft (Andoid/iOS/Windows 10) V1.6-V1.16
Contact Information 

Discord:Scorpio Graphics#3236
Copyright 
This texture contain Copyright.
Agreement
Please read this agreement until the end:
– You are allowed to make videos or pictures with my shaders (YouTube, Twitch, …).
– You are allowed to modify my shaders ONLY for yourself!
– You are not allowed to claim my shaders as your own! (Don't ask me for permissions!)
– You are not allowed to redistribute and/or reupload it!
– You are not allowed to use content of my shaders!
– If you like to share my shaders, please share it with a link to My lINK!
– You are not allowed to use adf.ly links or any other URL-shortener! (Except bit.ly and goo.gl)
– If you modified something or use my development shaders, please leave a note.
– Don't make apk with my shaders
– Otherwise you will receive STRIKE
Please consider my agreement.
– Thank you.
Credits
Mojang Studios: Thanks for keep updating the Minecraft Bedrock Edition!
My donators: Thank you all for supporting me!
You: Thanks for downloading and playing with my texture! ;)
Designevo : Thank you for the logo maker!
License
Copyright (C) Scorpio Graphics - All Rights Reserved
Downloads
Supported Minecraft versions
1.10
1.11
1.12
1.13
1.14
1.15 (beta)
1.16
1.16 (beta)
1.6
1.7
1.8
1.9
Resolution
Shaders