Cherrycraft BE is a Minecraft Pe / Be texture pack. It is designed to replace birch with cherry. It modifies the appearance of all birch blocks and items with dark and light versions. It also changes the text mentions of birch when using American English.
✦
This is the official Minecraft bedrock / pocket edition port.
✦
The port was licensed by the original developer.
This pack originally belongs to Cactuarplush.
Follow them on Tumblr/Twitter.
Textures were extracted with modifications from
Mizuno's 16 craft
. The credit goes to
Mizuno/Seb
for the textures.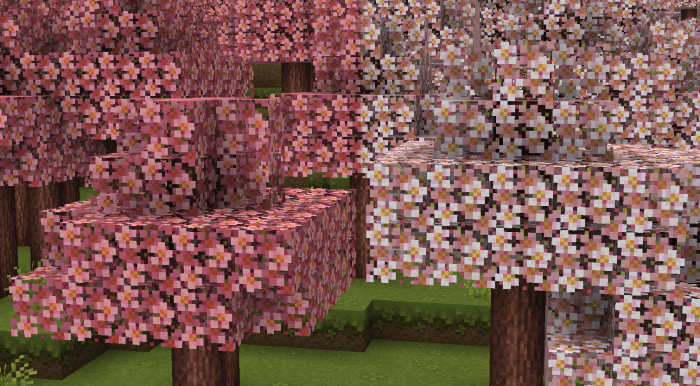 ➜
What's the difference between the dark and light versions?
The color of the leaves and saplings is the only distinction.
That picture shows it.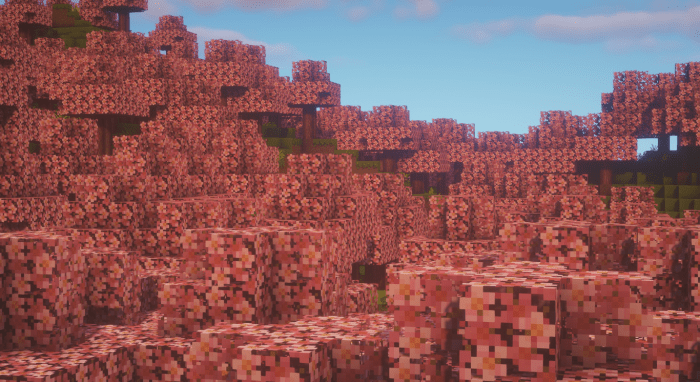 ✦
Limitations of Minecraft Bedrock / Pocket Edition
✦
I've changed some of the pack's original files and codes to make it work in the Bedrock version. Some of the original features / textures on the Java version will not work on Bedrock edition, such as connected textures, etc. In the future, some textures and features will be fixed or added.
✦
Please do not give me any requests or tweet me for help.
✦
If it's about Cherrycraft BE, send me a dm instead. I can't answer every question you have, as it's really frustrating on many platforms! If the site's
faq
page doesn't help, send me a message on
Twitter
or
Tumblr
.
~~~~~
✦
Full pack FAQs and Infos will be on the site. Site link is provided below.
✦
Please be aware that by downloading and/or using this texture pack, you agree not to redistribute or claim it as yours.
Added variations to Cherry Wood Planks.
Removed the textures for Double Cherry Wood Slab.
File & Coding optimizations.
Updated the pack's readme.txt
Updated the pack's en_US.lang to fix the issue regarding cherry names not showing on some devices.
Updated the pack's description (mcpedl).
Downloads
Supported Minecraft versions
1.16
Resolution
16x