Anyone want a big ol' rideable, tameable chicken thing? Yes, pick me! They sound super cool. And hamsters!? Well.. whatever, I guess they're cute, so sure. I can always ignore them.
Chocobos and hamsters, in one pack, who saw that coming!
Chocobo
The headliner, for sure. Find these guys running around in plains (especially sunflower plains) biomes, and dark forests. Daytime only.
Some Important Things:
Tame with cookies (or cocoa), and you better have them ready because as you approach, they'll approach you back – claws and beaks flying everywhere.
Drop a saddle on them, after they're tamed, and you can ride them
A number of variants spawn, thanks to Bastee Famoso and Odarma MX for the suggestion, five base colors. They're all dyeable (cheers Odarma MX), giving you many color possibilities (whatever 5 x 16 equals – lots!).
Put diamond armor on, and they'll be immune to various types of damage (not projectile, not some others, you'll have to try it and see, or read the json and see)
Speed, health and size will vary, so if you don't find the speed or size you're after – keep looking!
Not breedable. Two reasons: 1. I'm lazy, and 2. these beasts, like all great things, should be hard to obtain. Mainly because I'm lazy.
They jump like nobody's business
Healable with most types of seeds and cookies (because cookies should heal everything.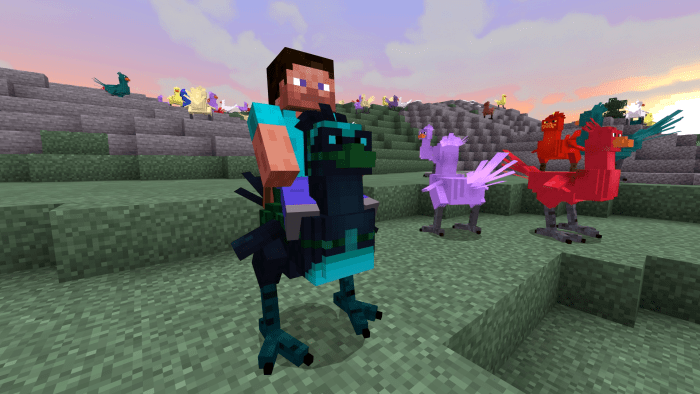 Hamsters
Find them in the cutest Minecraft biome – Flower Fields. Actually same biome as Pet Pigs.
Some Important Things:
Cute
Cute
Very cute
Tameable with cookies (only)
They will bring you something when you wake up
You can sit them, leash them
Lots of different variants, and sizes
They will fight for you!
To the awesome youtubers out there, if you do a review/showcase, thank you! Please link back to *this page* on mcpedl. Cheers!
Added more variants and made them all dyeable (thanks to Odarma MX and Bastee Famoso for the suggestion).
Changed spawn locations for Chocobos to be plains & forests (thanks to Odarma MX again).
Fixed the untameable adult hamster problem.

Installation
Downloads
Supported Minecraft versions
1.14
1.15 (beta)