Christmas time!! And you're definitely on Santa's naughty list.
Santa and his merry band of Elves are hard at work, preparing for your visit. And waiting. Waiting. Just. For. You.
Bring a touch of the festive season to your Minecraft survival world! This pack will spawn in your very own Santa's Workshop, full of elves, and with Santa (of course). But Santa's having a very bad day, and… you'll see.
Workshops will only appear in the Snowy Tundra/Ice Plains biome. You might need to wander around for a bit; you may hear one (Jingle Bells gives it away a little) before you see one.
There's a wide variety of mobs to play with. Let's see!
Santa! (and once you defeat him, you might have an even tougher Santa to deal with)
Elves of various sorts, archers, fireball guys (both of whom love riding on Santa's sled)
Reindeer! Of course there are. Take them for a ride! And hope they don't attack!
Santa's sled! Ho ho ho.
Presents for everyone! I bet you get a lump of coal.
Christmas trees! You can chop them down and take them back to your house. 'Tis the season!
Candy canes!
Gingerbread houses. Cute!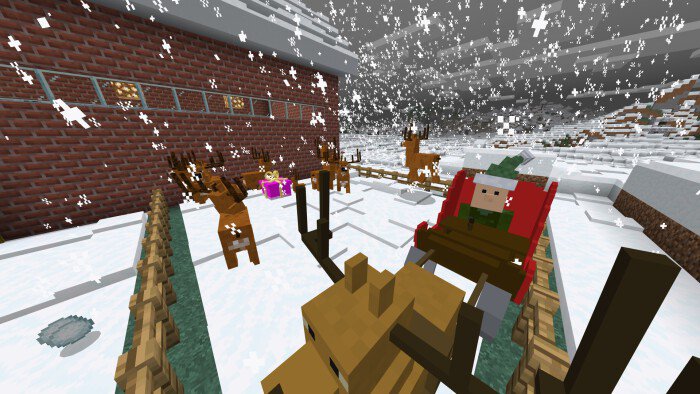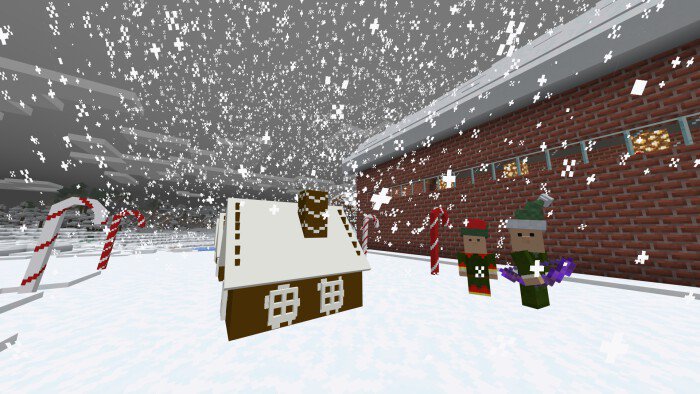 To the merry youtubers out there, if you do a review/showcase, thank you! Please link back to *this page* on mcpedl. Cheers!
A big THANK YOU to Kevin MacLeod (incompetech.com) for the *perfect* version of Jingle Bells. Licensed under Creative Commons: By Attribution 4.0 License
Re-uploading Android/iOS content due to import issues on some devices.


Fixed a few issues with the fireball elf, the main one that some fireballs seemed to persist forever. Few other adjustments.

Various small bugfixes, fixed the reindeer sounds (they work now), made them rideable (by elves too, cute!), a few more presents and a few more nasty ol' elves comin' at ya!

A few minor changes:
Made the sleighs healable, faster, more HP
Made the first Santa tougher and immune from ranged attacks (hee hee)
Confirmed working with 1.14

Installation
Downloads
Supported Minecraft versions
1.13
1.14