Do you have the color you want in Minecraft? Let's add Color Blocks Addon in such a case! This addon can add colorful 4096 colored blocks to the world of Minecraft.
Blocks
The color of the block is indicated on the ID and block name.
The block Red,Green,Blue (00 – ff) of for each 16 phases, 4,096 (16x16x16) add a block.(Light version is 216 blocks.)
Map display support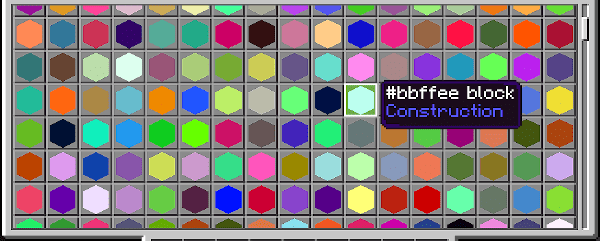 Craft
Crafting cobble stones and obsidian can make "#000000 block".

To create each color block, you can increase the color level by using red dye, or green dye, blue dye and white dye.

Also, crafting with 8 white dyes results in "#000000 block". Crafting with 8 black dyes will result in "#ffffff block".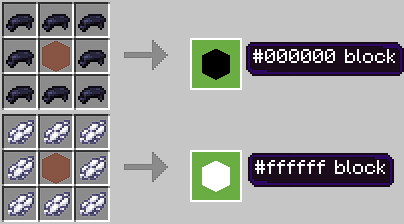 "#000000 block" has a shortcut recipe that allows you to skip stages with color blocks and 8 dyes (Useable dyes: red, green, blue, cyan, yellow, magenta).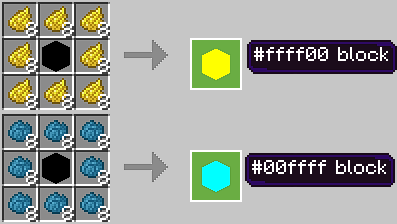 "#ffffff block" can make a color block similar to colored wool with 4 dyes.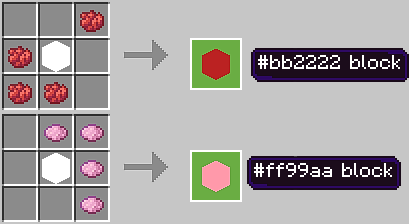 Notes
Because a huge number of blocks are added, it may not work properly or may be slow depending on your environment.
Please note that you cannot take responsibility about data corruption, the trouble by having used addon.
The old version remained and was deleted.
Upward compatibility of the old version is CB_Nomal_v101.mcaddon
Version 1.0.0 end of release
Correction of description on this page
Fixed the problem that some terminals do not work properly
 Light version release
Installation
Download .mcaddon
Open Minecraft(May take 10 minutes or more)

Toggle "Use Experimental Gameplay" on

done
If the texture is not normal
Download .mcaddon

Extract files

Move file to "development_behavior_packs"and "development_resource_packs"

Toggle "Use Experimental Gameplay" on

done
Downloads
Supported Minecraft versions
1.14