The Colored Glowstone Mod lets you create spaces in-game which lights up in different colors. Currently there are 14 different colored blocks to choose from. Everything from pink to black and anything between. It's a great way if you are looking to decorate your creations in different colors which emits some light.
Creator: Eaglerex
How to get the blocks?
You can either use the crafting recipes as seen further down or type /getblocks in the text chat to get the blocks to your inventory.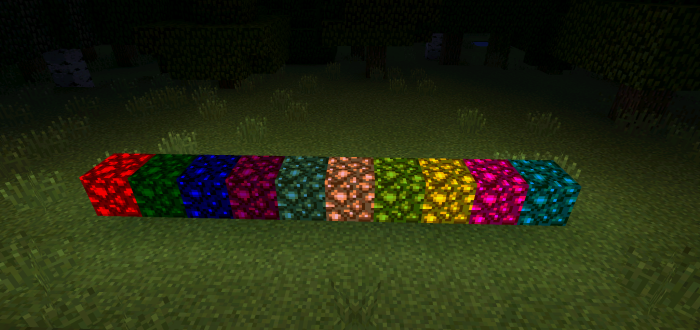 Block IDs & Crafting Recipes
Glowstone Red (176) - 1 glowstone + 1 rose red
Glowstone Green (177) - 1 glowstone + 1 cactus green
Glowstone Brown (178) - 1 glowstone + 1 cocoa beans
Glowstone Blue (179) - 1 glowstone + 1 lapis lazuli
Glowstone Purple (180) - 1 glowstone + 1 purple dye
Glowstone Cyan (181) - 1 glowstone + 1 cyan dye
Glowstone Gray (182) - 1 glowstone + 1 light gray dye
Glowstone Dark Gray (188) - 1 glowstone + 1 gray dye
Glowstone Pink (189) - 1 glowstone + 1 pink dye
Glowstone Light Green (190) - 1 glowstone + 1 lime dye
Glowstone Yellow (191) - 1 glowstone + 1 dandelion yellow
Glowstone Light Blue (192) - 1 glowstone + 1 light blue dye
Glowstone Magenta (193) - 1 glowstone + 1 magenta dye
Glowstone Orange (194) - 1 glowstone + 1 orange dye