It's time to announce the winners! Congratulations to all of you!
21000 Minecoins – TailDragonZero
Nintendo Switch – JujuStyle7
PlayStation 4 Nintendo Switch – r4isen1920

(winner requested prize to be changed to a Nintendo Switch)

Xbox One X – FluffyMari
Questions & Answers
How will the winners receive their prize?
Answer: All winners have been contacted via email or social media. Please check your spam inbox in case you don't see any email. Disclaimer: If you fail to respond within a period of 7 days we're not required to deliver the prize.
How did we select the winners?
Answer: All entries were counted, registered and assigned different number IDs. Then we used a random generator (random.org) to randomize the winning numbers. The winning IDs are the ones you see here today.
—
Merry Christmas!
It's time for our yearly Christmas Contest! This time you can win an Xbox One X, PlayStation 4, 21000 Minecoins or a Nintendo Switch!
A big thank you to everyone who continue to be a part of our community. Minecraft is really unstoppable! Even 6 years after the website was created, it still continues to grow by every day and we wouldn't be here without you – so thank you! 🙂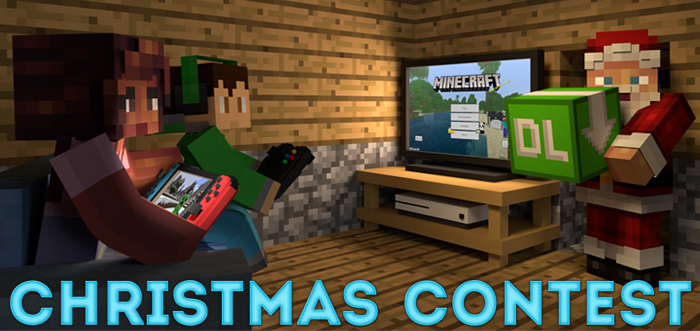 How to join the contest?
There are two options you can use and each will give you more entries and a higher chance of winning.
Option 1 (Earn +1 Entry) – Complete our Minecraft challenge!
1. Connect to one of our Realms down below. (If we notice high demand we'll add more Realms.)
2. Complete the challenge on our Realms to receive the secret code.
3. Submit the secret code using this form (click here)!
4. You've gained +1 Entry!
Option 2 (Earn +1 Entry) – Retweet the Tweet!
2. Reply to the tweet. You can reply anything!
3. You've gained +1 Entry!
🎅 Christmas Contest 2019 🤶

Prizes: Xbox One X, PlayStation 4, 21000 Minecoins, Nintendo: Switch (one prize per winner!)
Ends: 26th December, 2019
More info: https://t.co/wWePJ1dkWj (Increase chance of winning by completing our Realms challenge.)

🔁 Retweet & reply to join! 🔁 pic.twitter.com/84pGaO8E3r

— MCPE DL (@MCPEDL) December 23, 2019
Prizes
The winners are selected at random. We only require that you use one or both options above to participate.
Xbox One X (x1 Winner) (Value: ~$350 USD)
PlayStation 4 (x1 Winner) (Value: ~$350 USD)
21000 Minecoins (x1 Winner) (Value: ~$140 USD)
Nintendo Switch (x1 Winner) (Value: ~$300 USD)
When does the contest end?
The contest will end on December 26th. All 4 winners will be announced here and on Twitter a few days after.
Final Words
In 2020 the website turns 6 years. I'm very thankful for all our loyal visitors and also the content creators who make it an interesting place to visit. To celebrate we'll do more giveaways in the future, so be on the lookout for that!
Here are some cool highlights from 2019.
The submission system and user control panel was completely remade to give creators full control over their content.
Both the Android and iOS apps were remade to make them in complete sync with the website.

(The iOS app will release soon.)

During summer we hit an all-time record for the most amount of visitors during a period of 1 month.
In the next year we'll continue web development. Currently we're working on refining user profiles and also adding profile awards (more about that in the future). We are also looking at new features which can be added. Make sure to tweet us your suggestions and we'll soon decide on which to prioritize.
Anyways, on behalf of the MCPE DL team we wish you all a Merry Christmas! 🙂