The Craftable Mobs Mod gives you the possibility to craft mobs items. The mobs items can be used to spawn mobs or to stack several mobs on top of each other. As an example, you can set a baby villager to ride a wolf or a pig to ride another pig. It's a real fun mod to play around with as you can imagine.
Creator: Darkserver, Twitter Account
Getting Started
To get started we recommend that you get your hands on the Craftable Mobs Guide either by killing a pig with an ordinary book or by using Too Many Items. Then press the Guide button in the bottom-right corner to view the guide.
Every time you kill a mob there is a chance of 1% that it will drop itself as an item. The mob items can be used to craft the mobs.
Crafting Animals
Use the crafting recipes found further down on this page to find out how to craft each mob. Once a mob has been crafted it will be put in your inventory as an ordinary item. To spawn the mob simply tap on a block with the item.
Stacking Mobs
A fun feature of the mod is the possibility to stack mobs on top of each other. This only works with the craftable mobs items.
To stack one mob on top of another begin by spawning one and then tap with another mob item on the first spawned mob and it will ride it. You can stack multiple of mobs on top of each other.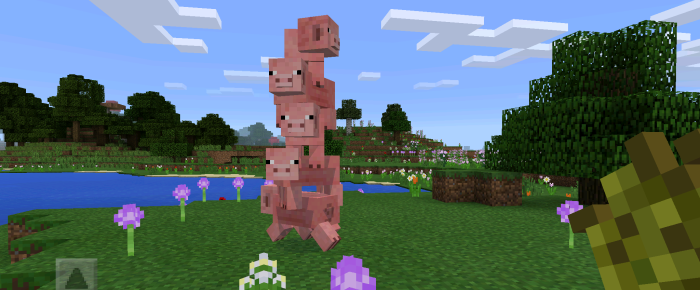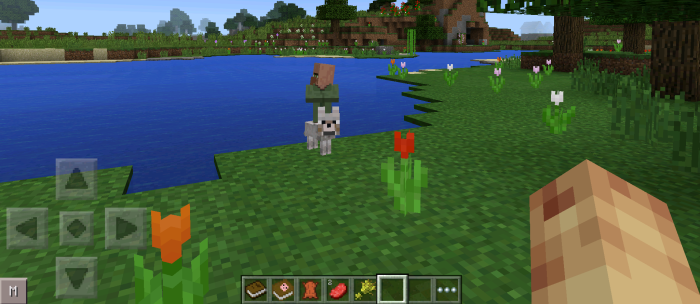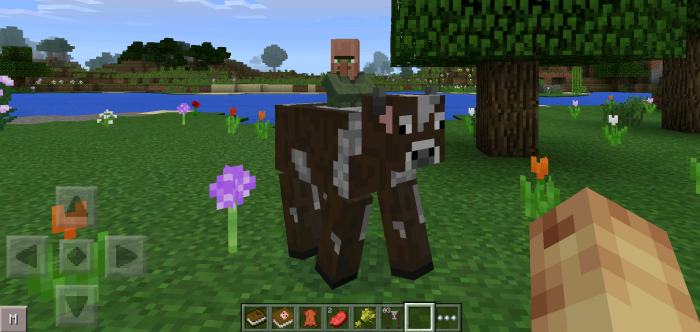 Item IDs & Crafting Recipes
Ghast Tear (599)
Ender Pearl (600)
Spider Eye (601)
Ender Eye (602) – 1 ender pearl + 1 redstone
Raw Mutton (603)
Cooked Mutton (604)
Gold Nugget (605) – 1 gold ingot
Craftable Mobs Guide (606)
Bat (607) – 1 raw porkchop + 1 stone
Cave Spider (608) – 4 spider eyes + 4 strings + 1 rotten flesh
Chicken (609) – 6 feathers + 3 raw chicken
Baby Chicken (610) – 1 dirt + 1 chicken
Cow (611) – 5 raw beef + 4 leathers
Baby Cow (612) – 1 dirt + 1 cow
Creeper (613) – 8 gunpowders + 1 rotten flesh
Enderman (614) – 8 ender pearls
Ghast (615) – 6 rotten flesh + 3 ghast tears
Creeper Jockey (616, 620) – 1 creeper + 1 spider
Skeleton Jockey (617, 621) – 1 skeleton + 1 spider
Pigman Jockey (618, 622) – 1 pigman + 1 spider
Zombie Jockey (619, 623) – 1 zombie + 1 spider
Magmacube (624)
Minimizer (625) – 3 pigs + 2 sheep + 1 cow
Mooshroom (626) – 8 mushrooms + 1 cow
Baby Mooshroom (627) – 1 dirt + 1 mooshroom
Pig (628) – 8 raw porkchops
Baby Pig (629) – 1 dirt + 1 pig
Pigman (630) – 4 rotten flesh + 4 guld nuggets + 1 gold sword
Baby Pigman (631) – 1 dirt + 1 pigman
Sheep (632) – 8 wool + 1 raw mutton
Baby Sheep (633) – 1 dirt + 1 sheep
Silverfish (634) – 1 iron ingot + 1 raw fish
Skeleton (635) – 4 bones + 4 arrows + 1 bow
Baby Skeleton (636)
Slime (637)
Soul (638) – 1 diamond + 1 ender eye
Spider (639) – 4 strings + 4 spider eyes
Squid (640) – 8 ink sacks
Baby Squid (641) – 1 dirt + 1 squid
Villager (642) – 1 door + 1 emerald
Butcher (643) – 1 stone axe + 1 pig
Farmer (644) – 3 wheat + 3 dirt
Librarian (645) – 8 books + 1 bookshelf
Priest (646) – 5 sticks
Smith (647) – 1 iron ingot + 1 furnace
Baby Villager (648) – 2 dirt + 1 villager
Baby Buther (649) – 1 dirt + 1 butcher
Baby Farmer (650) – 1 dirt + 1 farmer
Baby Librarian (651) – 1 dirt + 1 librarian
Baby Priest (652) – 1 dirt + 1 priest
Baby Smith (653) – 1 dirt + 1 smith
Wolf (654) – 4 wool + 1 sheep
Baby Wolf (655) – 1 wolf + 1 dirt
Zombie (656) – 8 rotten flesh + 1 feather
Baby Zombie (657) – 1 dirt + 1 zombie