The Decoration Add-on introduces 6 new furniture and technology products which can be used for decorating your home in Minecraft. As all new items replace skulls and heads this means they are aren't restricted to just one angle but actually really easy to rotate. Some of them include a flat screen TV, a comfortable couch and a complete computer set.
Creator: ROBERTGAMER69, Twitter Account, YouTube Channel
How does it work?
The furniture is obtained by killing mobs (very rare drop chance) or you can also get them from the creative inventory (by searching for "Skull" or "Head").
TV – Creeper Head
Gamer PC Set – Dragon Head
Computer Chair – Wither Skeleton Skull
Armchair – Skeleton Skull
Table – Zombie Head
Chair – Steve Head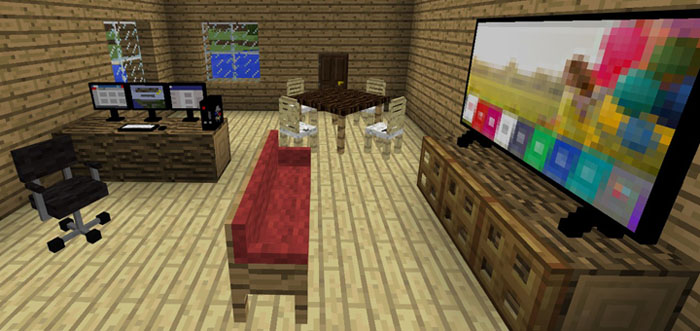 Installation
Activate the pack for a world in-game