This add-on implements a bunch of new furniture and other decorative blocks to the game. Some of the included items are a basket, sheets of paper, a table and a stereo. It's a really nice pack if you want some cool things to decorate your worlds with as they are much more realistic than if you would have to build them just with blocks.
Creator: HemaMetwaaly, Twitter Account
Important note: This was originally posted as an update for the previous Decoration Addon/Pack. It was a mistake and that's why it has now been posted as it's own post.
How to obtain the new furniture?
The new furniture replace some of the existing head and skull blocks in-game. These are very rare mob drops, so the easiest way to find them is by using the creative inventory.
Basket – Creeper
Paper – Creeper
Table – Wither Skeleton
Radio – Zombie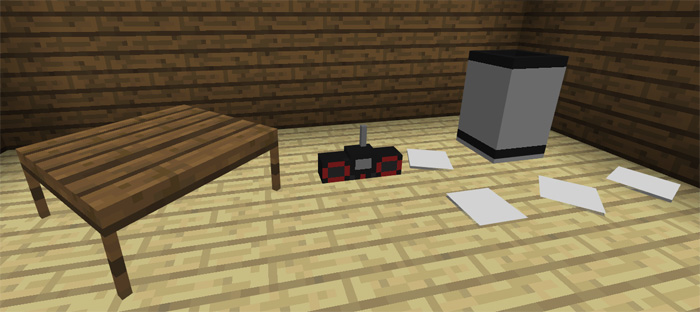 Installation
Open Minecraft
Settings > Global Resources > Activate the pack