This function pack/addon adds more functionality to arrows. They destroy blocks and also "damage" others. See the list below for all the exact changes to each block and the chances of it happening. This was designed for 1.14 so if commands change from then, this pack will probably not work anymore. It may work in older versions but I'm unable to test.
This video outlines the features of this pack along with some interesting uses of the mechanic:
Arrows now destroy WEAK BLOCKS and blocks can get damaged! See the following list of blocks: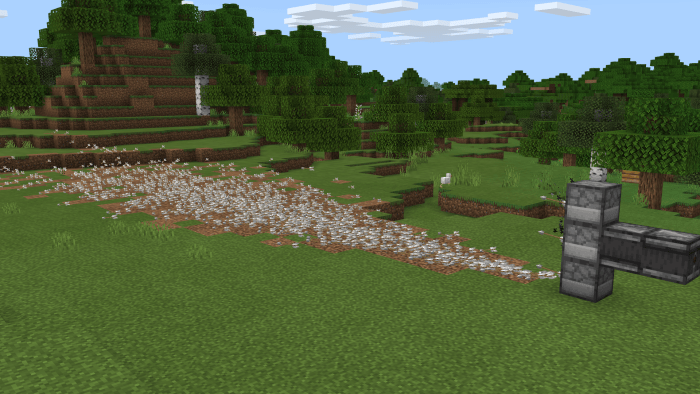 Destroyable Blocks
Saplings, Leaves, All Plants, Crops, Sugar Cane, Cactus, Bamboo, Flowers, Mushrooms, Mushroom Blocks, Snow Blocks (25%), Snow Layers, Chorus Flowers + Plants, Glass (75%), Glass Panes, Stained Glass (75%), Stained Glass Panes, Vines, Lilypads, Melon Blocks, Pumpkins, Ice, Sea Pickles, Coral Plants + Blocks, Kelp, Glowstone, Cocoa Beans, Turtle Eggs and Nether Wart
Changeable Blocks
Cobblestone >>> Gravel (25%)
Stone >>> Cobblestone (25%)
Dirt >>> Coarse Dirt
Grass Blocks >>> Dirt
Mycelium >>> Dirt
Podzol >>> Coarse Dirt
Stonebrick >>> Cracked Stone Bricks (25%)
End Bricks >>> End Stone (10%)
(This list is available when you view you click "Read More" in the behaviour pack menu)
Support me and stay updated by checking out my social media?
Feel free to join my Discord where you will be able to see the development process of my projects and have access to all download links directly to MediaFire:
Feedback is really appreciated and I will do my best to engage in such conversations on my discord or in the comments of this addon.
Removed double image
Updated documentation
Updated downloads (no more Adfly) and moved to MediaFire
Updated documentation of MCPEDL page to explain downloading better as well as fixing minor grammatical errors
Version 1.0.3
Updated and improved MCPDL featured image
Updated pack icon
Updated download link
Added link to my discord
Version 1.0.2
Changes
Cocoa beans, turtle eggs and nether wart are now destroyable
Added showcase video to MCPEDL page
Version 1.0.1
Fixed
Fixed bug where destroyed blocks wouldn't' drop their item
Changes
Added randomness to how often an arrow will do damage. (This is to prevent damage to blocks which could be more annoying) - see this list above or click "Read more" in the behaviour pack menu in-game.
Installation
Click on the link
Download
Open file
Alternatively, you can join my discord and you will have access to all the downloads for all my creations! Discord Link
Downloads
Supported Minecraft versions
1.14
1.15 (beta)
1.16