This add-on adds new custom animations to the player model! Running, walking & jumping now look more detailed, and the animations work for all player models & skins, multiplayer is supported!
As emotes are coming soon to Minecraft, why not spice up the vanilla game as well? The animations are slightly tweaked to give the player a more lively feel.
Below you can see a short preview of the walking, running and jumping animation: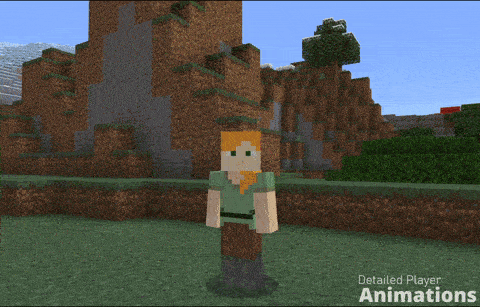 The trailer gives you a better look at the pack 🙂
Key Features:
Compatible with multiplayer
5 animations: walking, sprinting, jumping, sneaky dance, crazy sprint (activated by running without jumping for 10 seconds), fishing
Works with all player models & skins
More animations are coming soon!
Installation
To get this add-on simply press the link below and the download will begin automatically!
Steps for installation:
Once the ".mcpack" file downloads tap the item in your notifications tab
When prompted, select "Minecraft"
The game will open & the pack will be automatically installed
To activate, simply open Global Resources in your Settings, select "My Packs", click "Detailed Player Animations" & press "Activate"
Downloads
Supported Minecraft versions
1.13
1.14
1.15 (beta)
1.16 (beta)