This addon adds the function of being able to domesticate the hostile mobs now you can use them to attack other mobs or have them as pets. In this addon, two exclusive creepers are added: the fire creeper and the ender creeper are more powerful creepers
Creators: Team Infinite Minds and Fernancraft
In this addon you can now domesticate the hostile mobs with different items like taming a creeper with powder. the hostile mobs will not attack you but if you attack them they will attack you. The domesticated mobs will attack the undomesticated monsters.
News
Two new exclusive add-on mobs were added: fire creeper and ender creeper
Added the function of ordering a domesticated mob to stand still without moving or attacking




Domestic Mobs
Totem – Evocation, Vindicator, Vex.
Rotten meat – Zombie, Shell, Zombie Pigman, Witch
Rope – Spider, Spider Cave.
Ender Pearl – Enderman, Endermite, Ender Creeper
Bone – Skeleton of Wither, Skeleton, Stray.
Gunpowder – Creeper.
Blaze Road – Blaze.
Tear of Ghast – Ghast.
SlimeBall – Slime, Magma Cube.
Stone – Silverfish.
Raw Fish – Guardian, Elder Guardian.
Fireball-Fire Creeper
Mobs indomable
Zombie Villager
Ahogue
Fantasma
Shulker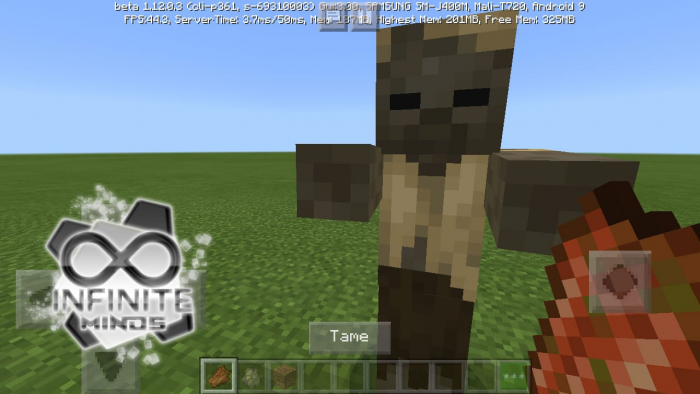 If you want a mob to stay still and not attack other hostile mobs you should give it a block of land and stay still in one place. This also applies if you want the mob to attack or move again.
News
Two new exclusive add-on mobs were added: fire creeper and ender creeper
Added the function of ordering a domesticated mob to stand still without moving or attacking
the link was changed due to errors in the previous
Downloads
Supported Minecraft versions
1.11
1.12
1.9