I know you've been waiting for a Dragon Ball add-on to come to mcpedl, and so have I! This is no skin pack, this is an add-on! Grab your friends and come along in this wonderful Adventure! Who knows what you will find… Only time will tell!
Dragon Block Bedrock Edition
Brief explanation about this Addon update:
Almost a month ago, I released the Addon "Dragon Block Saiyan Saga" which had featured the Saiyans and a Saibaman. Due to high demand, I decided to revamp the addon. Reasons being, for one, I had gotten complaints that for whatever reason players weren't able to find the addon features. So I made a new addon for Dragon Block which replaces the older version, starting with Dragon Ball the Original Story. Every single update I will be covering saga per saga, so the next update will be a rework of the Saiyan Saga Addon. I hope this clears some confusion, anyways let's get on with the addon!
Mobs:
I added 20 New Mobs that can all spawn Naturally in the world, some more often than others, and all of them are unique to each other! Mob types include Masters, Allies and Enemies, Bosses, and Animals
Here is a list of all the mobs I added in order from Weakest to Strongest
Bulma
Bandit Pirate
Bandit Ninja
Giant Fish
Emperor Pilaf
Bandit Yamcha
Masked Man
Grandpa Gohan
Master Korin
Master Roshi
Great Ape Goku
Roshi (Full Power)
Tao Pai Pai
Tien
Tien (Clone)
Tien (Master)
King Piccolo
Mr Popo
Kami
Piccolo Jr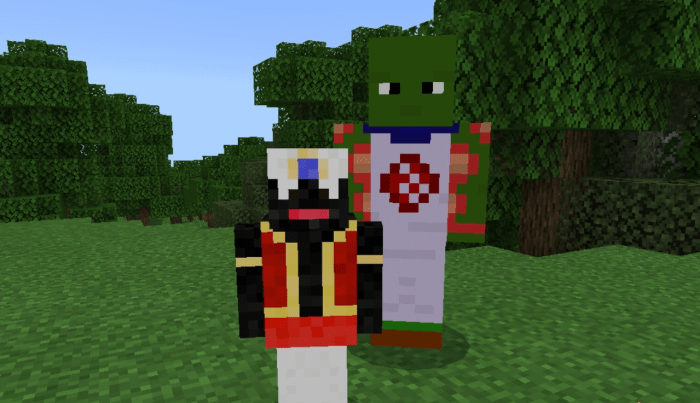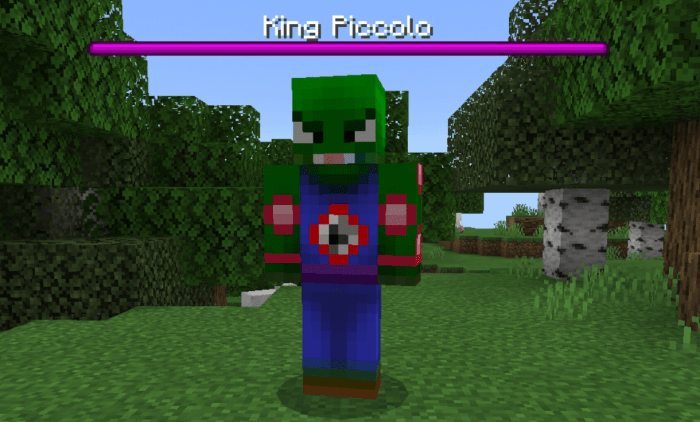 All of these mobs also have Unique Drops. Masters will not drop items but instead will reward you for completing their tasks. Mobs like Bulma and Korin, who don't have Character Specified Emblems, are not masters but they still reward you for tasks.
Items and Materials:
I have collected over 85 Custom Items which can all be aquired in Survival mode and Creative. Some are common, such as Cutlass, and some are rare, like Roshi's Kamehameha. These items include, but are not limited to, Master Emblems, Technology, Dragon Balls, Ki Attacks, Techniques, Armor, Power Ups, Food, and so much more!
The following is a list of some of the items available in the Add-on
Senzu Bean
Kamehameha Level 1-3
Emblems
Dragon Balls 1-7 Stars
Technology Chips
Wish and Wish Amplifiers
Onigiri
Chicken Leg
Bunny Treats
Cooked Giant Fish
Sacred Water
Giant Diamonds
Pretty Boy and Pretty Girl
Magazines
Ki Fist
Ki Blast
Power Pole
And so much more!!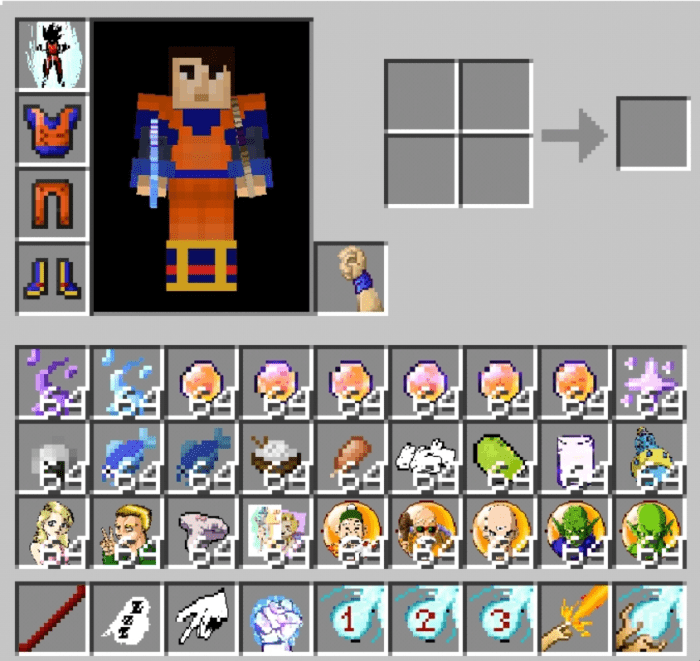 As the list says, there is also Ki. Finding Spirit and Energy will allow you to craft Ki, and with Ki you will be able to do more damage to powerful enemies like Piccolo Jr. You can find Recipes to help build up your Ki in the "How to Play" section attached to this addon.
Dragon Balls:
At the moment there are 2 methods for obtaining Dragon Balls. Trading and Defeating Enemies (Some enemies spawn less often than others, such as King Piccolo). Dragon Balls are used to create wishes, combine them together in a Crafting Table to create a Wish (Custom Item). The Wish combined with Wish Amplifiers will make the wish that you most desire.
The following is a list of all the Wishes you can get in this add-on
"I wish to get the Power Pole!"
"I wish to learn Master Roshi's Kamehameha!"
"I wish to have a supply of food!"
"I wish to have a bundle of Ki!"
"I wish to have a Pure heart!"
"I wish to regain the evil in my heart!"
"I wish to have Eternal Youth!"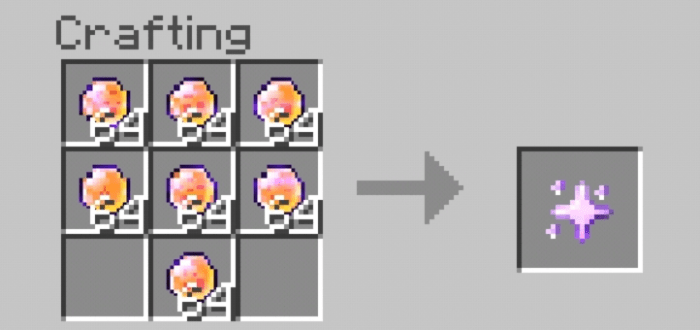 All of these wishes differ in strength. You will need more Amplifiers depending on how powerful the Wish should be, for example you'll need 8 Amplifiers to have Eternal Youth, and 2 Amplifiers to have the Power Pole. In addition, I also added a secret bonus wish!
The New Informational Dragon Block Bedrock Edition "How to" section:
To make things easier for everyone, I created a custom "How to" section, which can be viewed at anytime while playing Minecraft, that way it'll be easier to find Recipes and Information for over 100 custom items and entities! Here's how you can find it.
After you download and install the Resource and Behavior packs, go to Global Resources in your Minecraft Settings

Activate the Dragon Block resource pack and exit the settings to allow the Resource Pack to load

When you go back to Settings, you will find the new How to Play button! Click it to find all the Recipes and Information you will ever need!
Join my Discord Server to get access to Betas, secret content, memes, suggestions, help, and more! You are more than welcome to join, and you will get to check in on the progress of the addon daily!
Dragon Block Bedrock Edition Discord
I revamped the addon, so here's what's been added
Fixed bugs
Added 20 New Mobs
Added Over 85 New Items
More ways to get Ki
Ki Attacks were nerfed
Enemies were buffed
Mobs spawn naturally
Players can learn new techniques from Masters
Trades with mobs is added
New custom UI has been implemented
Added Future Update Notes
Added Discord Link
Fixed bug with download links (MediaFire downloads ran out of memory, new links are provided)
Added Raditz
Added Saibaman
Added Nappa
Added Vegeta
Fixed Great Ape Vegeta
Added Materials
Added Armor
Added Ki Attacks
Updated Ki Blast
Updated Description
1. Updated Mod Thumbnail
2. Provided video gameplay of the mod
3. Added more descriptions and information about the mod and Dragon Ball lore
Installation
1. Click your required links
2. For mcaddon, Open the file using your File Manager, and open using Minecraft
3. For .zip, extract the zip file and move the folders into Minecraft's behavior/ resource folders
4. When import is successful, Turn on Experimental Gameplay options and activate the packs. 
5. Press Play!
Downloads
Supported Minecraft versions
1.16